Partnerships In Lending Drive Better Business Outcomes
In today's fast paced and ever changing mortgage market, vendors are quickly realizing that trying to "go-it-alone" is not always what's in the best interest of their client. Vendors need to explore new ways to deliver innovation that specifically addresses the challenges that lenders are facing today and into the future.
Strategic partnership in lending can improve the customer experience while driving better business outcomes for each partner involved. The right partnership provides major advantages for all involved: mutual customers, each business and the industry as a whole.
Consumer's benefit from a seamless and fully integrated offering that truly delivers more tools and functionality in one comprehensive solutions. The consumer doesn't have to jump to multiple products and services to obtain their desired outcome. This provides a frictionless user experience while improving customer satisfaction.
Each business partner benefits from the right partnership in a number of ways. It allows businesses to expand their offering to deliver what their customer is looking for and more specifically needs at this point in time to address changing market condition. It also allows each partner to leverage their specific strengths while minimizing gaps or others areas that they have less expertise.
In addition, businesses can expand their target audience, grow faster than they could organically, and capture additional market share. Partnerships can also leverage synergies between the two companies, marketing and outreach strengths, sales teams, and brand awareness within the industry.
For example, we recently partnered with Ellie Mae. The integration between Capsilon and Ellie Mae allows mortgage lenders to more efficiently and securely share data between Capsilon's solutions and Encompass® to drive quality and efficiency at every stage of the mortgage lifecycle.
Mutual Capsilon and Ellie Mae customers benefit from the seamless integration that removes manual work and time delays between the systems, making it even easier for customers to leverage both solutions.
For example, Encompass® customers can now use Capsilon to automate "stare and compare" activities. Companies can immediately access and compare Encompass® data to information within documents, instantly spotting where supporting documents and data don't match, enabling them to use better data within Encompass & other business applications.
What this means for Ellie Mae customers, and our current mutual customers, is flexibility and options to take advantage of best of breed technologies, in which they can then create a technology stack designed to solve their specific lenders pain points, allow them to create competitive advantages and provide them a platform to proactively respond to the market and their customers.
This is just one example of how partnership can drive better business outcomes while delivering an improved customer experience. When this happens the entire industry benefits.
We are currently working with a number of vendors to develop partnerships and integrate our solutions so that we can continue to add value to lenders. We are constantly looking for ways to drive better business outcomes. It stats with an open mind and a willingness to realize that you don't have to "go-it-alone".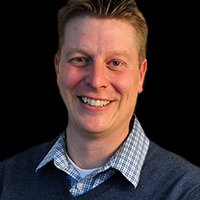 Eric Kujala started at Flagstar Bank as a home loan advisor in 2002 with responsibility for originating new residential mortgage business for Flagstar Bank's Direct Lending department. In 2003, he was named team leader in the department, and in 2004 he was appointed assistant vice president, responsible for the entire Direct Lending sales team. He was promoted to vice president in 2006. In 2008, he joined DocVelocity, the flagship product of Paperless Office Solutions, Inc., a wholly owned subsidiary of Flagstar Bancorp, where in 2013 Flagstar Bank sold the subsidiary to its long term partner Capsilon Corporation, which was recently sold to Ellie Mae where he is currently their Director, Product Marketing.