4 Ways To Operationalize Empathy In Your Customer Communications Now
Still feeling the impact of the COVID-19 pandemic, millions of homeowners still face financial hardship.
Though the share of mortgages in forbearance is steadily decreasing, serious mortgage delinquencies are on the rise. Meanwhile, Fannie Mae and Freddie Mac recently announced a new mortgage refinancing surcharge that will be prohibitive to borrowers most in need of a refinance with low interest rates.
Lenders should always strive to communicate with their customers in a way that's considerate of their financial situations. But in these challenging economic times especially, there should be one central component in all communications with your customers: Empathy.
Lenders can operationalize empathy as a strategic communications practice. Empathy is both about what you say and how you say it. Provide relevant, necessary resources to customers who need them in an assuring, helpful manner, to build their trust and set them on a path toward future financial health.
Here are 4 tactics to guide your team's people-first approach to customer communications today.
1: Equip Your Customers with Educational Content
Enable your customers to find the answers to all their mortgage questions on your own website or app. While some customers may prefer to talk directly to a customer service representative, others may want to learn more before they're ready to speak with someone.
Provide your customers with self-service support or educational content around financial planning and mortgages. You might do this by creating a hub or landing page on your app or website. It's critical to have a destination where your customers know they can find up-to-date resources about COVID-19, mortgage forbearance policies, and refinancing options. You can also include self-service tools like rate calculators.
Engaging, educational content isn't just useful for current customers. Prospective borrowers might find this content equally insightful, and they may be more likely to think of your lending institution when they're ready to buy a home.
2: Leverage Data to Anticipate Your Customers' Needs
Don't wait for your customers to reach out for help. Look into your customer data to see if there are customers who may be in need of specific services, and reach out to them proactively.
It's likely that many customers may be unsure what to do next in light of a major financial change, such as unemployment, and you have the opportunity to walk them through all of their options. Once you've identified customers who are facing financial hardship, communicate via established channels how specific services, like the types of refinancing you offer, may be able to improve their situation.
You should also promptly communicate with your customers ahead of important dates, such as 30 or 60 days ahead of the end of a mortgage forbearance. This way, you can send reminders and action items to help customers stay on track with paperwork and payments.
3: Open a Two-Way Dialogue
Make room for humanized connection by offering your customers the opportunity to talk to a real person at your organization. According to Ellie Mae's 2019 Borrower Survey, millennial borrowers especially want more communication and in-person connection in the mortgage process.
In your customer outreach and marketing campaigns, invite customers to connect with your support staff's call center or other representatives who can talk to customers via phone or video call.
If your lending offices are currently open, be sure to inform your customers about how they can safely meet with local representatives.
4: Take the Right Tone
Empathy means treating your customers like people, not numbers. According to a Salesforce survey, 84 percent of consumers reported that being treated like a person is very important in their selection of a product or service.
Talk to your borrowers like you'd talk to a neighbor who needs help. In all of your outreach, position your lending institution as an approachable, trusted advisor and speak directly to your customers' needs.
In addition to using understanding and supportive language, ensure that any customer messaging is in line with their current financial and life situation. For example, if a customer is approaching retirement and considering downsizing, acknowledge that this is a major period of transition in your customer's life.
In the same vein, be mindful of traditional marketing campaigns with special offers, rewards, or upsells. You wouldn't want to promote a vacation home loan to a homeowner struggling to make their current mortgage payments.
Empathy Is Key to Building Customer-for-Life Relationships
Lenders always have a responsibility to demonstrate care for their customers' futures. But the current economic climate also presents an opportunity for lenders to step up and give their customers what they need to get through difficult financial situations.
When you put empathy front and center in all of your communications, you strengthen your relationships with your customers and empower them to take steps toward future financial wellness.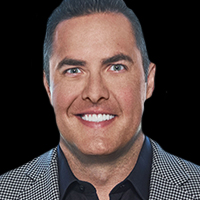 Joe Welu is the founder and CEO of Total Expert, the fintech software company behind the first enterprise-grade experience platform purpose-built for the modern financial services industry. The platform enables credit union sales, marketing, and compliance to work together seamlessly to deliver marketing campaigns and engagement that is relevant to each unique customer based on their stage in life.