Black Knight: 4.75 Million Homeowners Now In COVID-19-Related Forbearance Plans
Black Knight Inc. continues to monitor the impact of the COVID-19 pandemic on the U.S. mortgage market, tracking loan-level forbearance and performance data on a daily basis through its McDash Flash data set and the new McDash Flash Payment Tracker. According to Black Knight CEO Anthony Jabbour, the increased insights made available via the McDash Flash Payment Tracker give clients insight into not only the number of borrowers entering forbearance, but daily updates on what share of borrowers are making their mortgage payments each month, whether in forbearance or not.
"Of the 4.25 million homeowners who were in active forbearance as of the end of April, nearly half – 46% – still made their April mortgage payment," said Jabbour. "The fact that only 54% of borrowers in forbearance actually missed their payments helps explain the disparity between April's delinquency and forbearance rates. However, just 21% of borrowers in forbearance have made their May payments, which could lead to another sharp increase in the national delinquency rate for May if those payments are not received before the end of the month."
The McDash Flash Forbearance tracker shows that the 4.75 million loans in forbearance represent 9% of all active mortgages and account for a little over $1 trillion in unpaid principal. An estimated 7.1% of all GSE-backed loans and 12.6% of FHA/VA mortgages are now in forbearance. Over the past week, active forbearance volumes have increased by just 93,000, a more than 70% decline from the 325,000 in the first week of May. The rate of increase has now declined by 93% from the first week of April when the number of active forbearance plans increased by nearly 1.4 million in a single week. This slowdown suggests that volumes may be beginning to flatten, warranting a shift in servicer focus from forbearance pipeline growth to forbearance pipeline management. Black Knight's daily McDash Flash data allows subscribers to track outstanding populations, payment activity, upcoming forbearance expirations and overall forbearance performance on a near-real-time basis.
"While it appears – at least for the time being – that the surge of forbearance requests has begun to slow, for our servicing clients, it is the beginning of an entirely new challenge," Jabbour added. "Shifting to the management of such a large pipeline of homeowners in forbearance plans is paramount. Tools such as Black Knight's Loss Mitigation solution, integrated with our MSP servicing system, will be essential in managing not only the forbearance period, but the millions of loan workouts and modifications that are bound to follow."
Like McDash Primary data, McDash Flash data is anonymous and does not contain any nonpublic personal information (NPI) or personally identifiable information (PII), but can be benchmarked and/or extrapolated up for a full-market picture.
As of May 19, 2020, the McDash Flash Forbearance Tracker found the following: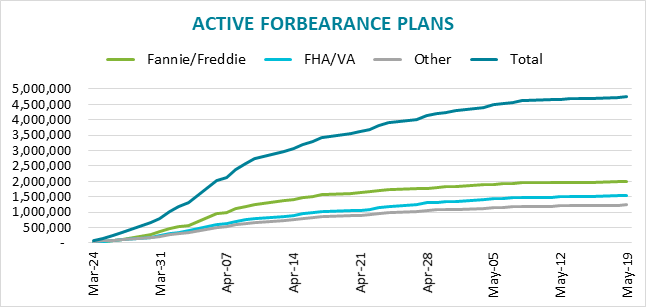 The Place for Lending Visionaries and Thought Leaders. We take you beyond the latest news and trends to help you grow your lending business.