Black Knight: 4.7M Now In Forbearance, But Pace Has Slowed
Black Knight has enhanced its ability to identify even those loans in COVID-19-related forbearance that were not specifically coded as such by individual McDash contributors. This gives Black Knight even greater visibility into the scope of the situation. This week's numbers reflect this enhanced visibility.
In a nutshell: As of May 12, approximately 4.7 million homeowners are in forbearance plans, up from a revised 4.5 million one week prior.
The pace of new forbearance plans has slowed considerably – there was an average net increase of just under 26K per day over the past week. That's a reduction of more than 85% of the rate we saw back in early April.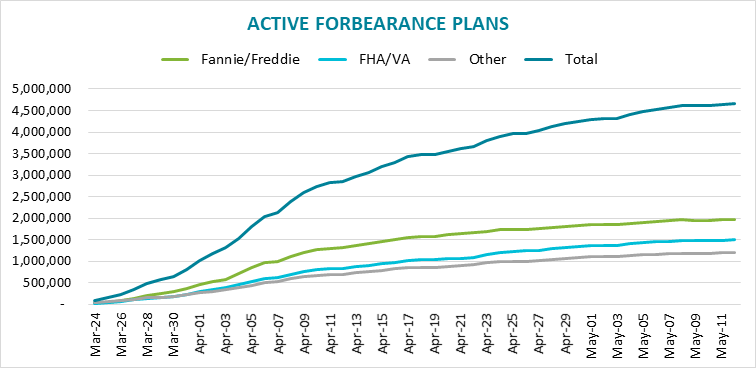 Using a momentum-based approach based on the one-week average and assuming an optimistic 10% daily decline moving forward, we would see 4.9 million loans in forbearance by the end of May (9.2% of active mortgages) and just under 5 million (9.4%) by the end of June.
A more pessimistic scenario, in which the two-week average rolls forward and the 10% daily decline doesn't manifest until June 15th, could result in as many as 5.4 million loans (10.1%) in forbearance by the end of the month, and nearly 6.3 million (11.8%) by the end of June.
Together, the 4.66M represent 8.8% of all active mortgages and more than $1 trillion in unpaid principal.  Some 7% of all GSE-backed loans and 12.4% of all FHA/VA loans are currently in forbearance plans.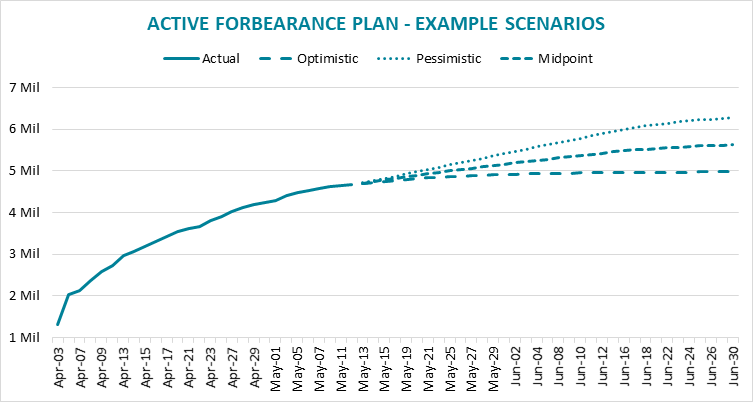 Remember: regardless of a borrower's forbearance status, servicers of loans in government-backed securities must make advance principal and interest (P&I) payments as well as tax and insurance (T&I) payments each month for these loans.
At today's level, mortgage servicers need to advance a combined $3.6 billion/month to holders of government-backed mortgage securities on COVID-19-related forbearances. That's on top of the $1.5 billion in T&I payments they must make on behalf of borrowers.
Another $2.1 billion in lost P&I will be faced each month by servicers of portfolio-held or privately securitized mortgages (more than 9% of these loans are in forbearance as well).
Reminder: FHFA has said that P&I advance payments will be capped at four months for servicers of GSE-backed mortgages. Given today's number of loans in forbearance, servicers of GSE-backed loans face $8.8 billion in advances over that four-month period.

The Place for Lending Visionaries and Thought Leaders. We take you beyond the latest news and trends to help you grow your lending business.