December New Home Purchase Mortgage Applications Decreased 25.2 Percent
The Mortgage Bankers Association (MBA) Builder Application Survey (BAS) data for December 2022 shows mortgage applications for new home purchases decreased 25.2 percent compared from a year ago. Compared to November 2022, applications decreased by 5 percent. This change does not include any adjustment for typical seasonal patterns.
"December new home purchase activity – both for applications and estimated sales – ran more than 20 percent behind last year's pace," said Joel Kan, MBA's Vice President and Deputy Chief Economist. "The decline in activity was in line with single-family housing starts that were 32 percent lower than a year ago. Higher mortgage rates and a weakening economy held back buyers at the end of last year."
Added Kan, "This week's builder sentiment index from the NAHB reflected an improving outlook, with mortgage rates down from recent highs and increased buyer traffic, as mortgage rates have backed off from recent highs. The housing market is still in need of more starter and entry-level homes, especially when current demographic trends point to the potential for more younger households to enter homeownership in the near future. New construction of these units will help these buyers entering the housing market."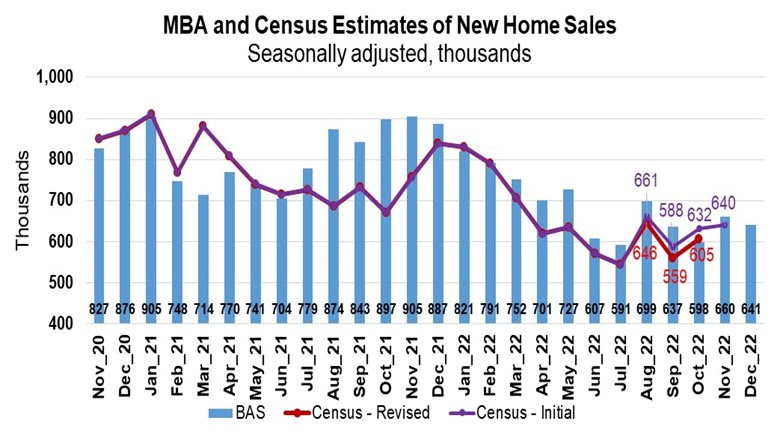 MBA estimates new single-family home sales, which has consistently been a leading indicator of the U.S. Census Bureau's New Residential Sales report, is that new single-family home sales were running at a seasonally adjusted annual rate of 641,000 units in December 2022, based on data from the BAS. The new home sales estimate is derived using mortgage application information from the BAS, as well as assumptions regarding market coverage and other factors.
The seasonally adjusted estimate for December is a decrease of 2.9 percent from the November pace of 660,000 units. On an unadjusted basis, MBA estimates that there were 45,000 new home sales in December 2022, a decrease of 8.2 percent from 49,000 new home sales in November.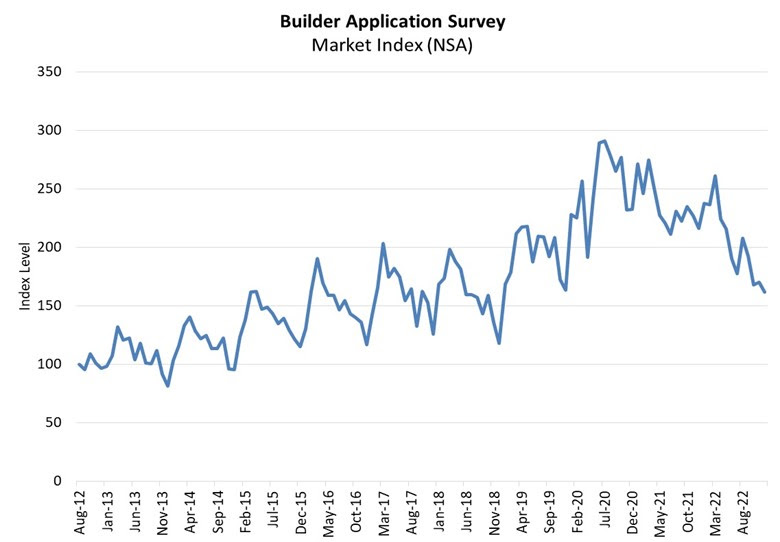 By product type, conventional loans composed 69.1 percent of loan applications, FHA loans composed 20.0 percent, RHS/USDA loans composed 0.3 percent and VA loans composed 10.5 percent. The average loan size of new homes increased from $392,465 in November to $399,555 in December.
MBA's Builder Application Survey tracks application volume from mortgage subsidiaries of home builders across the country. Utilizing this data, as well as data from other sources, MBA is able to provide an early estimate of new home sales volumes at the national, state, and metro level. This data also provides information regarding the types of loans used by new home buyers. Official new home sales estimates are conducted by the Census Bureau on a monthly basis. In that data, new home sales are recorded at contract signing, which is typically coincident with the mortgage application.

The Place for Lending Visionaries and Thought Leaders. We take you beyond the latest news and trends to help you grow your lending business.