Disruptive Fintech: 3 Quick Take Insights
As I travel across the country meeting with top mortgage bankers, technology experts, and leading lenders discussing the current state of the mortgage industry I uncovered a number of trends and insights. In those travels I had the opportunity to speak to over a 100 thought leaders in the mortgage industry within the last twelve months. Here are three quick insights from those discussions.
"There's always this Nirvana view of the future, of 'here's how good this could be if we solved all these problems at once.' That has two sorts of pitfalls to it that I think are worth thinking about for companies that are undergoing this journey. The first is not every problem has been solved by companies that are out there. There's a long way to go. There's a lot more to solve. And the industry is enormous. There are so many participants. There are so many parts of the process.
Meaning, that having a clear roadmap of the customer experience, process, and workflow lets one deploy solutions to the most pressing issues now and then undergo continuous improvement to reach the ultimate destination. So many projects fail by attempting to implement segments that are just too large.
If we waited for everybody to solve all these things before we released our product, we'd be having this conversation in 2030. It would be a long time before we solved it. But also, what that means for the organization is that even within the organization they don't even need to use everything that we or others have to get started. So, by that I mean [some lenders] need everything integrated and everything perfect before I get started. But actually, the incremental value and the incremental benefit to your customers, if you're a financial institution, of getting something up and running that allows [customers] to get that simplicity and transparency is big enough on its own.
Said another way, it's important to have the overall experience, process, and workflow documented, but to undertake implementation in steps. Constant improvement towards the right vision, towards that perfect Nirvana world that everyone wants… but don't wait for the Nirvana world before you make a move. It's critically important that the overall experience, process, and workflow be understood and documented so that the highest value technology components can be implemented first." Nima Ghamsari, CEO of Blend.
2.) The future for the Mortgage Industry will involve more technology companies, Innovative Fintech companies will place tremendous pressure on fees related to residential real east sales and finance. Since the majority of the cost of real estate brokerage, lender, title insurance and a variety of service providers in the residential real estate marketplace compensation. More productivity will be required from employees and independent contractors. The constant mantra we hear in the industry: do more with less.
3.) Residential real estate and finance winners are focusing on data driven decision-making and adapting to technology, those who converge consumer choice in a transparent and efficient manner. Winners at the same time will provide logistical excellence to allow a consumer to interact as they wish, when they wish, efficiently with a great experience. Convergence means movement towards true one stop shopping, similar to buying a car. Logistical excellence will occur by providing customers an Amazon like experience, with speed, convenience and transparency.
All of these and many more insights can be found in my upcoming book, "Disruptive Fintech: The Coming Wave of Innovation in Financial Services." The book provides the collective ideas of a hundred mortgage banking thought leaders and their insights on how to adapt to a rapidly changing mortgage environment, including comparing the way technology has revolutionized other industries. Thank you to the all of the Mavericks that made contribution to this book. To learn more about the book, check out our website: www.MaverickCEO.com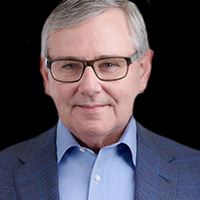 James M. Deitch is an entrepreneur, having founded two national banks, several mortgage banking ventures, and four technology-oriented companies. He currently serves as co-founder and CEO of Teraverde group of companies. Teraverde is a professional advisor to financial services companies. Teraverde helps banks and mortgage
bankers achieve greater profitability, streamlined operations and process improvement.