Fast & Furious Phone Calls
The emphasis on Customer Experience (CX) has never been more apparent in the mortgage industry where the focus has primarily been on rate competition and compelling "cash out" marketing. Until recently, many banks have been inclined to treat customer experience like a compliance box-ticking exercise rather than as an effective tactic to differentiate their brand in sales situations. Today's record low rates have changed the landscape. Qortel is hearing customers mention that they are currently in a refinancing process with a different bank than the one whose call we ae monitoring at a 3X rate compared to pre-COVID-19 conversations.
Delightful CX begins with understanding what customers want, which is only possible through analyzing data. Leveraging the data from phone calls helps Qortel understand consumer patterns, actions that create positive sentiment, and ultimately the behaviors that contribute to an outstanding caller experience. In 2020, rates and fees still play a role in consumer decision making but finding a trusted advisor and a loan officer that follows-up in a timely manner are surfacing as the deciding factors in who to refinance with.
The reality is that brokers and lenders face tremendous competition when it comes to courting borrowers with low rates, and with customer acquisition costs between $800-$1200, it is time to differentiate through selling as a trusted advisor with diligent follow-up practices. Start with the following three strategies: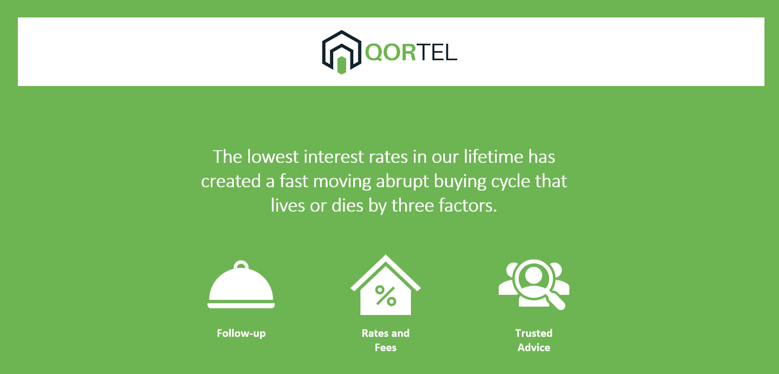 1. Level up Your Communication: Knowing everything about the mortgage industry, asking great questions, and delivering the perfect close doesn't matter if you can't get customers to talk to you. The stronger your communication skills, the easier and more effective the sales process will be. Communication in sales is often thought of as a salesperson giving customers information. But successful communication is motivating customers to give information to you. Getting customers to willingly share information is largely based on your behaviors and how you're asking. The secret to more successful communication begins with mirroring customers and adapting your communication to their style.
2. Be Radically Transparent: Demonstrating transparency builds trust and creates better connections with customers. No one is really on a "need to know" basis these days with a connection to the world just a click or share away. Technology has empowered customers and changed the way they interact with businesses. Organizations that embrace transparency and bankers that demonstrate strong character will be rewarded with customer trust and loyalty.
3. Leverage Tools to Improve Performance: Listening to your phone callsis a strong performance improvement tool in that it enables employees to evaluate their own skill set from a live customer interaction. Apply your communications skills and dedication to transparency to speed your sales process and pull credit sooner than you are today. Assessing and managing to your phone KPIs to completing an application helps to build better behaviors and improves the caller experience.
Qortel listens to millions of phone and text interactions between loan officers and consumers annually and uses that data to re-engage missed opportunities, develop loan officers' skill sets and keep clients in regulatory compliance.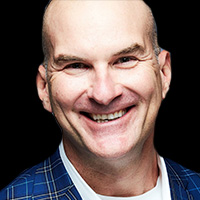 Michael Markette is the president at Qortel. Nearly 20 years ago Michael built a call tracking solution in the garage of his Seattle home and 'who knew' it has grown into multi faceted call analytics businesses leveraging machine learning. Building product still excites Michael and he is proudest of all the great employees he has worked with over the years. "As we grow we have become keenly aware of how we affect their lives. We believe focusing on employees first makes the happiest clients." says Michael.