Podcast: Insiders Voice Their Ideas
Welcome to the Lending Buzz, the podcast that gives you the latest news, trends, insights and strategies to help you grow your business.
First up, in The My Take Section, I express my candid views about the true value of MISMO.
In The Spotlight Section Special Guest Dori Daganhardt, Senior Vice President of Data Strategy at ClosingCorp, discusses new data that puts fees and a potential recession into focus.
Lastly, The Industry Insights Section takes on how lenders can truly improve the borrower's experience. Specifically, Amie Weaver, Administrative VP, Senior Mortgage Technology Manager at M&T Bank talks about how her company is improving the mortgage experience; John Whipple, Product Management at Blend, points out how a fully integrated point-of-sale can make all the difference; and Gerardo Caceres, Product and Data Operations Executive at ClosingCorp, notes that technology can be what boosts all of mortgage lending going forward….
Check out the conversation here:
Featured Podcast Sponsor: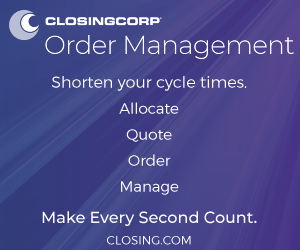 The Place for Lending Visionaries and Thought Leaders. We take you beyond the latest news and trends to help you grow your lending business.