Lenders Can Provide Realtors A Lifeline
The coronavirus pandemic continues to impact the mortgage and real estate industries. Everything, from in-home appraisals, recording offices being closed, no open houses in many areas, brokerage operations to how listings are being marketed, and the ability to close transactions, is requiring Lenders and REALTORS to adapt to these extraordinary circumstances.
These unprecedented circumstances are impacting Lenders and Realtors ability to conduct their businesses. Lenders and Realtors success and ability to navigate these uncertain times are paramount to moving the industry forward and require a different approach.
Forward-thinking lenders who use automated borrower intelligence & retention systems with complete tracking services will be able to send opportunities to their realtor partners so that the realtors can schedule and plan the purchase with buyers ahead of time. Realtors who prepare buyers now (by literally having a list of prospective borrowers who are ready to go when things change) will be the ones who have the highest chance of success. Therefore, no borrower will be left behind.
What forward-thinking lenders can do to help these realtors now is to provide timely and relevant opportunities, and that's where automated borrower intelligence & retention systems with complete tracking services come in. Realtors need a way to find opportunities without meeting people face to face or through open houses, or at new home construction sites. They need to find inbound opportunities from a trustworthy source.
Leading Lenders who can seamlessly track all behavioral events and/or financial events related to real estate/mortgage and then deliver this information to their realtor partners can provide a much-needed lifeline during this current crisis.
What do I mean by automated borrower intelligence & retention systems with complete tracking services? Here are some real-world examples that are already in use by leading lenders:
CREDIT IMPROVEMENT WATCH
There is no such thing as a dead deal when lenders have this kind of intelligence.
Now lenders can know when their prospects or customers have fixed their credit before they even know. Talk about striking while the iron is hot — this tool turns lenders into the ultimate service provider by putting them and their realtor partner in the right place at the best time.
MORTGAGE INQUIRY WATCH
Lenders can know when their customers are shopping with a competitor.
If anyone in the lender's database–lead, prospect, turn down, or customer is in the market for a mortgage, the lender will know and can pass that information along to their realtor partner.
EQUITY WATCH
Know when lenders customers have equity in their homes. Lenders can be notified when their prospect or past customer has equity in their home. This is ideal for MI reduction opportunities, cashouts, debt consolidations, and other equity-related loans.
NEW LISTINGS WATCH
If they list their home, lenders should know. Lenders will be notified the moment their customer lists his/her home for sale. This a great tool to get their customers pre-qualified for their next home, add value by offering a second opinion, or introduce their realtor relationship if the existing realtor falls through. Overall this program is designed to put a lender in front of their customer at a time when a significant financial decision is about to happen.
RATE WATCH
Can a borrower benefit from a lender's lower rates?
Set the target rate for each prospect, lead, or past customer, and the system will bring that opportunity back to the lender at the perfect moment.
DEBT WATCH
Know when borrowers need lenders help. The debt watch program will notify a lender the moment one of their borrowers gets into debt and has plenty of equity to solve the problem. During these challenging market conditions, this is a powerful tool that could significantly help the borrower.
LIFE EVENTS
Life Events Notification System (LENS). Get notified when there is a significant milestone such as marriage, birth, divorce, death, or an empty nest scenario that could lead to a mortgage-related financial event.
As coronavirus pandemic continues to rage on, lenders should use all of the tools that their disposal to provide a much-needed lifeline to their realtor partners. This will not only assist the realtor but also create borrowers for life by helping them when they need it the most.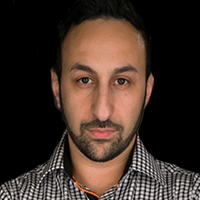 Alex Kutsishin is Co-Founder, CEO and Chief ROI Booster at Sales Boomerang. He is an innovator and entrepreneur. Sales Boomerang offers the first fully automated Borrower Intelligence software that tells lenders when a prospect or past customer is ready for a loan. In just 23 months they have discovered over $10.4B in missed loan volume for more than 40 of the top lenders in the industry and they are on track to double in size by the end of this year. Alex has been named 40 under 40 by NMP Magazine and Sales Boomerang has won top tech 2019 by Banking CIO Magazine.