Making Diversity Efforts Pay In Mortgage
Mortgage lenders are asking their teams how they will achieve growth in the face of a shrinking market. The Mortgage Bankers Association reported that in early February purchase mortgage applications shrank 12% compared to the previous year and refinance applications dropped 52% year-over-year. Lenders should look past the overall numbers and seek out the diverse markets where prospective applicants are growing. The key to success lies in viewing the market from a new, more diverse perspective.
Forty four percent of Millennials, the largest generation of homebuyers, are minorities. According to the 2020 Census, America's Hispanic or Latino population grew 23%, and the multiracial population experienced a 276% increase between 2010 and 2020. Over the same period, the buying power of other minority groups rose as well, including Asian Americans (111%), Native Americans (67%), and African Americans (61%).
There are prospective mortgage borrowers out there in this market. But lenders need a strategic approach to win their business.
Opening Eyes to a Broader Market
Diversity, Equity, and Inclusion (DEI) is the key to finding, connecting with, and serving diverse borrowers. DEI refers to building diverse, equitable and inclusive workplaces that best represent the communities lenders serve. On the consumer side, fair lending laws mandate that lenders provide "fair and equal access to mortgage services to individuals without discriminating based on gender, age, race, religion, disability, and sexual orientation." Truly embracing DEI means going beyond regulatory compliance to look for ways to improve access to mortgages, lending industry jobs, and leadership positions.
In the past, some minorities couldn't qualify for a loan because they had non-traditional credit or no credit history at all. Today, innovative lenders are embracing new strategies, such as considering untraditional means to evaluate borrowers (e.g., considering rent payments as part of borrowers' credit histories), to allow more people to achieve the American Dream of home ownership. They are also investing in programs that give every employee equal growth and advancement opportunities. Fannie Mae® and Freddie Mac® are also supporting and embracing new initiatives with programs like HomeView™, Home Possible®, and CreditSmart®.
Most borrowers will look at the lender's staff to gauge its diversity—and it matters to them. Potential borrowers may feel uncomfortable—and avoid doing business with that lender—if they cannot work with someone who understands them. To attract more diverse borrowers, lenders should employ a diverse, representative staff that reflects their customer base.
Prospective borrowers will also look for signs of diversity in lending in their own community. Prospective borrowers who don't know many homeowners who look like them may assume they cannot qualify for a mortgage. By reaching out to consumers in underserved areas, lenders can demonstrate their willingness to serve them.
Technology is a big part of the solution
Lenders can use technology and data to further their DEI strategies and goals, especially when leveraging Web-based mortgage software. Technology can help lenders forge the connections that will bring in more business from underserved communities. First, reducing language barriers is essential. Consumers from all backgrounds rely on online resources for information. Lenders have to offer borrowers easily accessible information—in multiple languages—explaining the complicated mortgage process. Today's software can create documentation in many languages, making it easier for borrowers with limited English proficiency to interpret and understand.
Technology also makes it easier to help diverse customers feel comfortable with the mortgage process. Today, borrowers from many backgrounds embrace electronic capabilities, such as eSign, eClose, and eMortgages. Lenders can send electronic documents to borrowers prior to closing, giving them time to review and share with family members and trusted advisors. Electronic options may alleviate fear of the unknown and get more borrowers to the closing table.
Technology also makes it convenient to educate borrowers. Rent vs. buy, mortgage comparison and other calculators help borrowers make decisions and find the best products and rates before they ever enter the branch. Videos, video chat and online help resources can explain the complex home buying process in a voice that sounds like it comes from their own community. That builds trust.
Finally, lenders can use mortgage software to examine their loan data to look for gaps in their service. HMDA data provides a straightforward way to benchmark a lender's performance against peers and look for ways to expand services or eliminate unintentional biases. Lenders can also use underwriting software that removes bias from underwriting decisions by making sure applications are not altered based on borrower characteristics.
Ultimately, everyone wins when there is balance, diversity, equity, and inclusion. More variety leads to broader knowledge and insight. Lenders should keep in mind that, "My experience is not your experience." People think and see things differently.
Viewing the current market from a new perspective will open more doors and opportunities for lenders – essential in today's highly competitive market.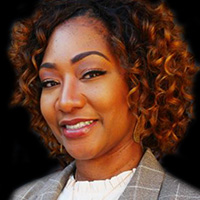 Shalecia Callaway is Senior Vice President of System Support for FICS (Financial Industry Computer Systems, Inc.), a mortgage software company that provides flexible loan origination and mortgage servicing software. She can be reached at [email protected].