Marketpulse: A Closer Look At Mortgage Fraud
The CoreLogic National Mortgage Application Fraud Risk Index (Index) for Q2 2022 is 121. This is a quarterly decrease of 13.5% from the Q1 level of 140. The year-over-year trend is down 7.5% from Q2 2021, when the Index stood at 131. Some of the decline in the Index is attributed to recalibration of CoreLogic's updated scoring model which was released late Q1. However, the company has seen increasing risk levels during Q2 when analyzing monthly data.
The second quarter showed a clear switch to purchase transactions as the majority of mortgage application activity, up from 53% in Q1 to 71% in Q2. Application volumes continued to decline in Q2, but not as dramatically as they did in the 2 previous quarters. CoreLogic will be issuing its annual report next month, with more in-depth analysis of changes over the last year.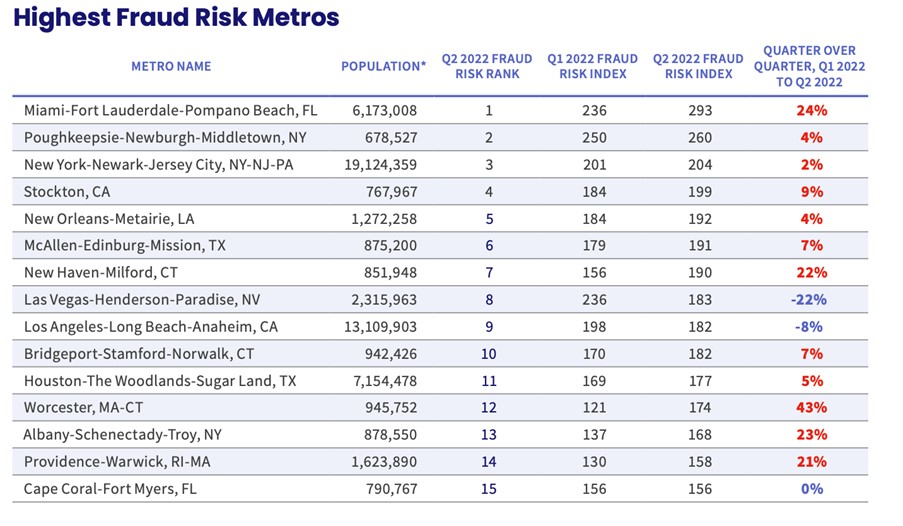 The Mortgage Fraud Risk Index is calculated from the aggregation of individual loan application fraud risk scores during the previous quarter. Score compilations are calculated for the 100 highest-populated Core Based Statistical Areas (CBSA) in the US, and the 15 CBSAs with the highest Fraud Risk for the most recent quarter are shown in rank order.

The Place for Lending Visionaries and Thought Leaders. We take you beyond the latest news and trends to help you grow your lending business.