Revolutionizing Mortgage Lending: Harnessing The Power Of AI And Bots
Today's mortgage environment demands more from you and your staff than ever. The ever-changing lending environment poses a significant burden on lenders of all sizes. Fierce competition and heightened pressure to reduce loan production costs are pushing lenders to the limit. There is intense urgency to create greater efficiencies, reduce costs, and increase profitability which are all significant factors challenging lenders to rethink how they manufacture a loan.
During this current market downturn, many lenders put off a number of technology initiatives until the market starts to turn around; one major exception to this is automation which drives down operating costs while creating greater efficiencies throughout the loan manufacturing stages.
Lenders are implementing Digital Workforce Solutions, combining deep industry knowledge and cutting-edge intelligent automation to reduce operating costs. This ground-breaking technology delivers operational cost reductions through the execution of advanced Bots leveraging AI and machine learning.
The Bots take on an intuitive human mortgage identity that immediately fits with current staff and infrastructure. The Digital Workforce can be quickly implemented and is an important way for lenders to adjust and balance their human capital to ensure that production operations continue. With these advanced Bots, lenders are seeing dramatic improvements in quality validation, audit checks, compliance checks, tolerance cures, and cost stability delivered in a more controlled environment.
This marks the beginning of a new generation of mortgage lending and establishes a direct blueprint for creating a sustainable lending model through transformative automation with human understanding. This technology improves the borrower experience by significantly reducing turn-times and improving accuracy by handling manual redundant roles within the mortgage company, allowing the current staff to focus on mission-critical job functions in return. This provides stable and predictable operational costs to handle market fluctuations better, optimize staff levels and expertise, and reduce future staffing peaks and valleys.
During these challenging times in the mortgage industry, lenders need proven mission-critical solutions that don't disrupt current teams and demand little from scarce technical resources that can actually reduce lending costs while enhancing staffing levels today and in the future.
That's exactly what Silverwork Solutions Innovative Digital Workforce Bots delivers to lenders of all sizes.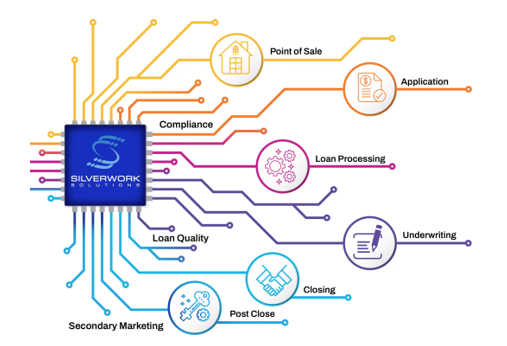 Take Your Lending Operations to a New Level
Silverwork Solutions takes the time and initiative to understand your lending operation challenges and works tirelessly to provide solutions that exceed your particular needs. Working collaboratively with lenders, Silverwork Solutions' highly trusted and passionate team has pioneered new ways to deliver intelligent automation that is easier and faster to integrate and maintain. This dynamic relationship allows Silverwork Solutions to apply its deep understanding of your lending operations with advanced Bots, machine learning, and AI to optimize your human capital to get things done.
The time to ease your loan manufacturing burden and enhance lending profitability is now. Turn to the pioneers in Transformative Automation With Human Understanding that other leading lenders turn to. Silverwork Solutions is highly sought after for operational excellence in mortgage lending. Silverworks' state-of-the-art technology, combined with extensive mortgage industry expertise, easily integrates with your current tech stack to streamline operations while reducing lending costs.
Our product offering helps lenders to provide integrated automation from application through closing. The current market conditions provide the perfect opportunity for lenders to retool their technology to compete in a new normalized market; entering the next market phase with transformative automation will help define the new lending leaders.
Unleash the Power of Bots to Transform Your Lending Operations
The future of successful lending involves applying technology in innovative ways to create solutions that easily bring together people and technology to transform lending. Drive results, maximize the potential that lies within your team, reduce costs, and transform your lending operations. Partner with Silverwork Solutions…Technology That's Brilliantly Human.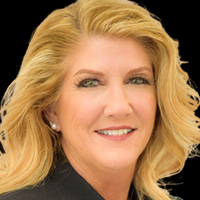 Kathy Mantych is a Fintech pioneer in complex technology environments with a comprehensive background spanning 35 years. Her accomplishments and accolades include business and strategic development and effective leadership to drive revenue with an enterprise-wide, customer centric sales mentality. To be successful it takes hard work and committed focus on balancing all channels of the mortgage banking industry with experience and expertise. Kathy has had proven success year over year with multiple recognition moments and was most recently awarded 2023 Most Powerful Women in Fintech from Progress In Lending. She is currently Senior Director of Business Development at Fintech, Silverwork Solutions, LLC in Chicago promoting cutting edge technology in Robotic Process Automation with Bot technology and Automated Intelligence.