The Power Of Expertise: Accelerating Your Mortgage Business Growth
In the dynamic world of mortgage lending, where market shifts and economic uncertainties create both challenges and opportunities, having a guiding hand that combines industry expertise with entrepreneurial spirit is invaluable.
Here are a few key ways in which working with industry experts can propel your business to new heights:
1. Expertise is a Competitive Edge
In the highly competitive mortgage industry, knowledge is power. Partnering with experts who have a profound understanding of the financial services and mortgage sectors can provide your business with a significant competitive edge. With insights garnered from years of experience, we can help you make informed decisions that set you apart from the competition.
2. Industry Insights and Trends
The mortgage industry is subject to constant change. Regulations, market dynamics, and customer preferences evolve regularly. To stay ahead, it's crucial to have a partner who is deeply embedded in the industry and attuned to the latest trends. NexLevel Advisors' active involvement in industry events and associations allows us to provide you with insights that matter.
3. Customized Solutions
Every mortgage business is unique, and cookie-cutter solutions rarely deliver the desired results. Our ability to tailor our services to your specific needs and goals ensures that you receive solutions that work for your business. Whether you're a startup or a Fortune 500 company, our experience allows us to craft strategies that align with your vision.
4. A Strong Online Presence
In today's digital age, your online presence is paramount. We specialize in creating content, leveraging social media, and harnessing the power of video and podcasting to enhance your brand's visibility. This not only builds trust but also helps you connect with your target audience.
5. Thought Leadership
Becoming a thought leader in the mortgage industry can do wonders for your business. It positions you as an authority in your field, fostering trust and credibility. NexLevel Advisors can help you establish thought leadership through our extensive network and knowledge.
6. Measurable Results
The ultimate goal is to drive growth and increase revenue. We're results-driven and take pride in delivering measurable outcomes. Our strategies are designed to generate leads, increase sales, and fuel your business's growth.
At NexLevel Advisors, we recognize the ever-changing landscape of the mortgage marketplace and the need for businesses to adapt and thrive. Our tailored suite of services, encompassing branding, content creation, marketing, video content, social media, and podcasting, empowers our clients to seize market share, gain a competitive edge, and boost revenue through customer acquisition.
What truly sets us apart is our unique perspective. We've been on the client's side of the fence, a vantage point that provides us with insights that are impossible to gain elsewhere. In stark contrast to many traditional agencies, we are entrepreneurs at heart, having managed mortgage technology companies ourselves. We are driven by a deep-seated desire to help our clients fast-track their growth, and our ability to both strategize and execute growth programs sets us apart.
We specialize in the financial services and mortgage sectors, boasting exceptional expertise that spans from startups to mid-sized firms to Fortune 500 companies. As active members of the Mortgage Bankers Association (MBA), we're not mere observers but active participants in the industry. This keeps us attuned to our clients' target audiences and industry trends, enabling us to provide invaluable insights and support to our clients.
NexLevel Advisors is the go-to partner for companies looking to elevate their business to new heights. Our focus is on creating fresh opportunities and actionable strategies that yield tangible results, helping our clients achieve sustained growth and increased business value. Our team, composed of accomplished executives with years of experience and profound knowledge of complex product and service offerings, market segments, and product roadmaps, makes us stand out.
Guided by the astute leadership of Michael Hammond, whose understanding of the financial services and mortgage industries is unparalleled, we bring a wealth of experience to the table. With over 30,000 connections and followers specific to financial services, half a million views of posted content on social media to financial services audiences, and tens of thousands of video minutes watched on platforms like YouTube, LinkedIn, and Instagram, NexLevel Advisors is a hub of results-driven strategies that engage a highly responsive community, setting our clients apart in the marketplace and driving their growth.
Michael Hammond's distinction as one of roughly 60 individuals in the country to be awarded the prestigious Certified Mortgage Technologist (CMT) designation by the MBA reflects his in-depth knowledge of mortgage technology. He's been recognized as a "TECH TRENDSETTER" by Housing Wire, a "LENDING LUMINARY" by Progress in Lending, and a "TOP 50 MOST CONNECTED Mortgage Professional" by Mortgage News Network. Our public relations team has cultivated strong relationships with leading financial services and mortgage industry media, consistently providing thought leadership content.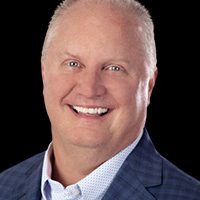 Michael Hammond is the founder and president of NexLevel Advisors. NexLevel provides solutions in business development, strategic selling, marketing, public relations and social media. A seasoned technology executive, Michael brings close to two decades of leadership, management, marketing, sales and technical product and services experience. His expertise spans start-ups to multi-billion dollar corporations, running businesses, business units, marketing, sales, strategy and product and services organizations. Michael brings exceptional insight, leadership, passion, and strategies that create profitability.