Appraising An AMC's Response To The COVID-19 Pandemic
While the COVID-19 pandemic has nearly destroyed our national economy and greatly impacted the mortgage market, our collective response to it will leave our industry with some surprising benefits. Whether it is creating more comprehensive emergency preparation plans, developing work-from-home protocols or improving security to allow greater reliance on cost-saving digital conferencing, the crisis has forced us to make adjustments that both secure and streamline our operations.
This is certainly true in the area of valuation and appraisal services.
Valutrust Solutions, a member of the Williston Financial Group family of companies, provides national appraisal management services and proprietary technology solutions to banks and residential lenders. Through proprietary technology, we integrate with clients' loan origination systems to automate the property valuation process.
When regulatory bodies began rolling out temporary accommodations for valuation services, we anticipated there would be opportunities to improve our efficiency by implementing new measures to manage each order within our system. This would also enable us to know how each order would fit within the framework of the temporary considerations. The process proved to be a huge benefit. Order volume for March approached record levels, not just for us, but for the industry, and we had the highest single-day order volume in our ten-year history that month!
A CRISIS PLAN WAS READY
As a member of the Williston Financial Group family of companies, Valutrust Solutions has been incredibly fortunate. Our collective organization already had a comprehensive disaster recovery plan in place, and a pandemic response team ready to deploy. Together they enabled us to immediately adapt and respond. Furthermore, because we employ cloud-based technology and hosted IP phone technology, we were confident that we would be able to remain operational, in a secure environment, as our team members transitioned to a home-based work environment. This proved true.
In early March, when we started to see how widespread the virus' impact would be, we began mapping out plans for our employees to work remotely. First, we verified that the equipment they would need to take home would work with their broadband networks and then checked for any potential issues in their home office setups. It took just one week to determine that, if need be, we could shift our entire staff to work remotely.
The decision to make the shift came on Monday, March 16 and by the end of that Wednesday everyone was up and running with full functionality and essentially full productivity. Considering the fluid nature of the pandemic and the fear it created in communities all around the world, it was a welcome comfort to all that we were able to get our employees safely working from their own remote environment. Soon, however, we realized that distancing changes communication styles. In response, we implemented chat capabilities, video conferencing and other tools that all our employees are using quite effectively.
APPRAISING COVID'S POTENTIAL THREAT
Early on, we recognized that the pandemic would affect different regions at different rates and impact different markets in very different ways. In hard hit areas, we knew we would need to balance the interests of the occupants and the appraisers. That meant safe, exterior-only inspections or desktop appraisals. That fell to the discretion of both parties and had to fit within appraisal protocol guidance provided by Fannie Mae, Freddie Mac and HUD.
To their credit, and to everyone's benefit, these institutions provided quick, relatively clear communication that has remained exceptionally open.
LOOKING AHEAD
The lenders who typically use Valutrust Solutions' national AMC services lend across multiple states through a mix of call center and retail operations. For this reason, we have been and currently remain heavily focused on refinance transactions. Volumes ebb and flow, however, and in order to be successful, an AMC requires scalability both within its platform and operations. Without this level of scalability, the AMC's bottom line suffers.
Looking ahead, we anticipate returning to refinance volume levels consistent with the first two months of 2020. In the purchase space, we have seen a slowdown in valuation volume due to the pandemic's impact on the economy. It is difficult to predict when and how it will pan out, but real estate agents are adjusting their actions, as with virtual house showings, to limit the risk of exposure and potential infection associated with face-to-face encounters. As real estate listings begin to increase, and more homes return to the market, those who can get a mortgage will be in great shape. Part of the stimulus package, and the Federal Reserve action, even prior to the stimulus, drove rates down. This is a benefit to both the refinance and purchase markets. There is hope that enough equity will remain in the housing market that, with the continuing low rates, borrowers can tap into that to help lead us out of this economic situation when the virus is less of a concern.
We've seen some lenders significantly raise their rates in recent weeks because their own pipelines were full enough and they couldn't flex to meet increased demand. The uncertainty around forbearance risk has also caused lenders to tighten certain lending criteria and charge higher rates to account for the increased risk. While other lenders are going all-in to maximize the opportunity afforded by the lower rates. Regardless, the environment brings with it wide variations along with sometimes quick and extreme fluctuations. Efficiency, scalability and client communication have never been more critical.
The lessons for the mortgage industry will be challenging, but invaluable. Flexibility and communication are primary. Technology will continue to provide tools that provide workarounds and keep operation schedules virtually intact. Generally speaking if you prepare and brace for it as best you can, you can avoid harmful decisions made in reaction to short term swings in the industry.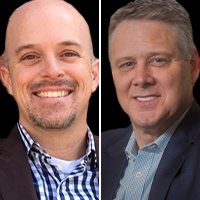 Patrick Brown, SRA, (Left) is Chief Appraiser, Director of Quality Control at Valutrust Solutions. Sean Pyle (Right) is Co-founder and President at Valutrust Solutions.