Black Knight: Number Of Homeowners In COVID-19-Related Forbearance Falls For The First Time Since Crisis Began
Black Knight continues to monitor the impact of the COVID-19 pandemic on the U.S. mortgage market, tracking loan-level forbearance and performance data on a daily basis through its McDash Flash data set and the McDash Flash Payment Tracker. According to Black Knight CEO Anthony Jabbour, improvement was seen in the number of homeowners in forbearance for the first time since the CARES Act has gone into effect.
"After rising sharply in April and then leveling off toward the end of May, the number of American homeowners in forbearance plans has now decreased for the first time since the crisis began," said Jabbour. "There were a net 34,000 fewer homeowners in forbearance as of June 2. The decline was actually greater among government-backed mortgages, which saw 43,000 fewer total forbearance plans than last week, but this was partially offset by an increase of 9,000 new plans on mortgages held in bank portfolios and private-label securities."
The McDash Flash Forbearance tracker shows that the 4.73 million loans in forbearance represent 8.9% of all active mortgages and account for a little over $1 trillion in unpaid principal. An estimated 7.1% of all GSE-backed loans and 12.3% of FHA/VA mortgages are now in forbearance.
The decline is driving a shift in servicer focus from forbearance pipeline growth to forbearance pipeline management. Black Knight's daily McDash Flash data allows subscribers to track outstanding populations, payment activity, upcoming forbearance expirations and overall forbearance performance on a near-real-time basis. Likewise, Black Knight's Loss Mitigation solution, integrated with the industry-leading MSP servicing system, provides essential functionality for managing not only the forbearance period, but the millions of loan workouts and modifications that are likely to follow.
"While this decline is welcome news," Jabbour continued, "there are still concerning signs in the data. According to Black Knight's McDash Flash Payment Tracker, far fewer homeowners in forbearance remitted May payments than did in April. If that trend holds true through the end of the month, the market should be prepared for another likely rise in the delinquency rate for May. Also, expanded unemployment benefits are scheduled to end on July 31. It remains to be seen how that will impact both forbearance requests and overall mortgage delinquencies."
Like McDash Primary data, McDash Flash data is anonymous and does not contain any nonpublic personal information (NPI) or personally identifiable information (PII), but can be benchmarked and/or extrapolated up for a full-market picture.
As of June 2, 2020, the data showed: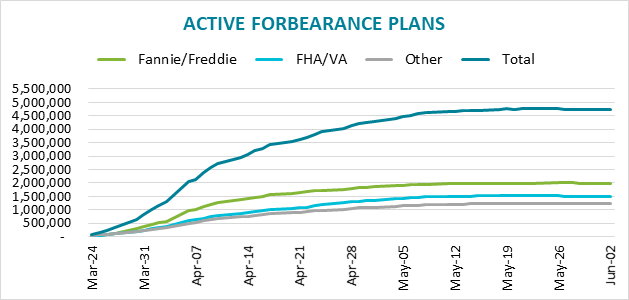 Moving forward, Black Knight will continue to provide weekly McDash Flash Forbearance Tracker updates via Vision, the Black Knight blog. Those interested in staying up-to-date on industry developments are encouraged to visit the blog for more information in the coming days and weeks.

The Place for Lending Visionaries and Thought Leaders. We take you beyond the latest news and trends to help you grow your lending business.