Charting The Future Of Lending Technology
Now that we've reached the finish line for implementation of the Uniform Residential Mortgage Application (URLA), many technology firms that have been focused on ensuring a smooth transition to the new loan application are now free to get back to the work they typically do. This is very exciting.
While URLA will make things better for investors and the government, the primary task of most mortgage technologists is to make things better for lenders, to offer them some relief so they can serve more borrowers. That's the most rewarding work we do.
Lenders are still experiencing friction. Even though we have made incredible gains with mortgage automation, it's still an assembly line. The conveyor moves the deal through the process, but everyday millions of employee hours are spent looking at the documents coming down the line and making sure they contain the right information.
There is a better way.
The rise of AI in mortgage
Many have written about the importance of Artificial Intelligence in mortgage lending, but because everyone seems to have a different idea of what AI means and how it should be employed, the ultimate benefits are often unclear.
Let me clear that up.
There is a sea change coming to the mortgage business. Interest rates have gone as low as they can go and can only rise from here. As they do, volumes will fall but the cost to close a loan may not. In fact, with the cost of expensive overhead spread across fewer loans, many lenders will see their costs increase.
The majority of the lender's costs are tied up in human resources. When these resources are used to stare and a monitor and compare documents to a checklist of required information, these costs come right out of margins. However, when additional resources and budget can be repurposed and applied to marketing, sales and customer service they actually create more profit for the company.
Lenders must process more loans with fewer people. Automation alone will not accomplish this. But AI-powered loan automation can.
Tackling the hard work
Mortgage technologists are very proud of the high levels of automation we have achieved, and rightly so. But the work that remains is harder. As we move into the future, it won't be about simple automation, but rather about integrating real-time data into our automated processes. This is the only way to take humans out of the process.
Every lender has a unique approach to the business and to their use of technology. That's why we see so many problems with loan originators buying off-the-shelf software and assuming that it will offer them a turnkey solution. It never does. At best, it gives the lender about 50% of what they are hoping for out of the box and the rest comes through customization or configuration — if it comes at all.
That's the hard work, but it is very worthwhile. Closing the gap between what a technology can initially do and the lender's vision for their business is the secret sauce of lender differentiation. Our job as technologists is to find that gap and meet the lender's expectations.
We're investing in that today with advanced AI-powered lending technology.
What we mean by AI in mortgage lending
Take loan underwriting, for example. It's the most expensive part of the lending process and one with the highest risk, due primarily to regulatory and investor compliance. To make it more complicated, the mortgage boom of 2020 increased the cost of recruiting and hiring good loan underwriters, many of whom are edging closer to retirement. Ten years from now, finding an experienced loan underwriter to hire could be very difficult.
Lenders must find a way to transform the loan origination process and do the same work with fewer people. They must make the underwriting process as efficient as it can be by reducing or removing duplication.
Using an AI-powered Document Management platform, we can use AI to intelligently inspect each document the lender receives so a human underwriter doesn't have to determine whether they are looking at the right information or not. This takes routine document classification to the next level and provides real content management.
Instead of rooms full of humans staring at computer monitors, you have one powerful system processing documents that flow into electronic loan files. This technology allows accurate data to flow from anywhere the lender finds it, through document management and directly into a powerful workflow platform, like the Mortgage Cadence Platform (MCP).
This is how you make underwriting — and everything that comes after it — much easier for the lender. It's a concrete example of how we are applying AI to the lender's process today, removing the friction and providing relief.
Find out more about how AI is changing the way the mortgage business operates by reaching out to us today.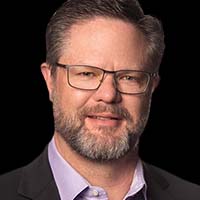 Jim Rosen is Executive Vice-President of Services at Mortgage Cadence and has more than 20 years of experience in the mortgage software and services industry. He has been with Mortgage Cadence for almost 8 years and was instrumental in the launch of the company's new MCP loan origination platform.