Editor's Note: Industry Experience Is In Demand
As our industry goes through this rough patch, industry leadership is in demand and thought leaders are finding new positions. For example, John Levonick is joining Garris Horn LLP, a national law firm serving the financial services industry as Senior Partner.
Widely recognized for his work in the mortgage secondary market and technology industries, Levonick will focus his practice on compliance and transactional matters for businesses in those sectors of the mortgage industry.
Levonick comes to Garris Horn having served most recently as the CEO and Co-Founder of a technology-enabled mortgage service firm delivering third-party review and due diligence services. Over the course of his 23 year career, he has worked within the consumer financial services industry in both executive and legal roles. He has worked in the FinTech and Blockchain practice groups at Am Law 100 law firms, held the role of Chief Legal and Compliance Officer at Accenture Mortgage Cadence and served in leadership roles with wholly owned subsidiaries of Wipro, Radian and Fiserv.
"John has worked with the largest players in the mortgage secondary market over his decades long career, including at investment banks, diligence firms, trade organizations and NRSROs," said Co-Managing Partner Richard Horn. "He brings a depth and breadth of mortgage business and legal experience that not many attorneys can claim. He is an ideal fit for Garris Horn's approach of providing large law firm experience with a boutique law firm's efficiency and service."
"I am thrilled to join such an amazing team of attorneys at Garris Horn LLP," said Levonick. "The firm already is nationally renowned in the consumer finance and FinTech industries for bringing both in-house and large law firm legal experience to its boutique level of service. I look forward to bringing my secondary mortgage market and FinTech experience to the firm's compliance, transactional, and litigation practice areas."
Garris Horn LLP is a virtual, national law firm headquartered in Dallas, Texas with a nationwide client base. Levonick will be based in Connecticut.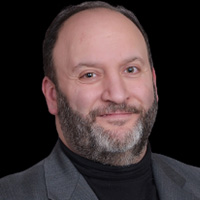 Tony Garritano is the founder at PROGRESS in Lending Association. As a speaker Tony has worked hard to inform executives about how technology should be a tool used to further business objectives. For over 20 years he has worked as a journalist, researcher and speaker in the mortgage technology space. Starting PROGRESS in Lending Association was the next step for someone like Tony, who has dedicated his entire career to providing mortgage executives with the information that they need to make informed technology decisions to help their businesses succeed.