Embracing Marketing Automation To Drive Speed And Engagement Inside Consumer Direct
Tech-savvy borrowers have arrived. They are looking for a personalized experience that offers the ability to engage with companies across multiple channels. Today's borrower expects the mortgage experience to be timely, customized, and digital. They check reviews prior to shopping and communicating with several lenders at once. Borrower expectations have changed, and consumer direct teams are being challenged to meet the demand.
To engage with these digital nomads on their terms, mortgage companies can innovate through technology to enhance customer experience and drive scalable growth. Having the right platform and the latest marketing automation tools can help consumer direct teams exceed customer expectations through speed, personalization, and engagement.
As refinance volume slows and the need to find new borrowers grows, mortgage executives should be evaluating current technology to drive internal efficiency while building upon their consumer direct footprint.
Ensuring you have the best mortgage CRM in place with the latest mortgage marketing automation tools is an optimal starting place.
What are some of the challenges facing consumer direct?
One of the biggest challenges facing consumer direct teams right now is meeting service levels and growing long-lasting relationships with digital homebuyers. Without the right mix of automation and technology in place, delivering a personalized five-star experience on every loan can be difficult to manage as consumer demand evolves.
Since consumer direct loan officers experience a higher lead volume than their retail counterparts, many find it difficult to manage ongoing communication. Continuing to engage with borrowers from lead to post-close is critical in the customer journey. Many loan officers lose deals when they do not follow up effectively with their clients. Many lenders lack the appropriate automation to send the right message at the right time.
Winning the speed-to-lead game is another challenge facing consumer direct teams. Without the right platform and marketing automation tools, lenders risk continuing to lose deals to competitors with the appropriate technology.
How do consumer direct lenders embrace technology to meet the demand?
Embracing marketing automation technology can rapidly improve communication and engagement with borrowers. The right marketing technology helps consumer direct teams communicate faster with new leads through personalized automated workflows, freeing up more time for loan officers to originate.
Many consumer direct lenders are choosing a powerful mortgage CRM like Surefire to give them the right automation and best mortgage marketing tools to gain an edge in the marketplace.
Without the right platform, now is the time to question your current technology stack.
What are questions mortgage executives should ask when evaluating their current CRM?
Is my current CRM limited to prospecting and lead management? If so, your team is missing the power of in-process and post-close automation workflows to help increase pull-through opportunities.
Does my CRM come with a compliant out-of-the-box content library that my loan officers can use to educate the market? If the answer is no, you are likely playing the waiting game to have content created while paying extra for it.
Can my team engage with borrowers across text, phone, email, video, and social platforms while sending a strategic direct mail piece to the same borrower? If not, the team is missing the ability to communicate with borrowers through an omnichannel approach.
Does my CRM come with past borrower market re-entry alerts, equity alerts, credit improvement alerts, and the necessary technology to help them uncover additional loan opportunities? If not, your team is likely buying more leads than they need to since first-party lead data already exists in your CRM.
How is the Surefire platform helping consumer direct lenders with marketing automation?
Surefire powers consumer direct teams with:
Effective lead management tools to automate lead nurturing, in-process, and post-close communication with borrowers throughout the entire customer lifecycle
Built-in round robin lead assignment and lead scoring to help lenders maximize lead performance
Award-winning content that is personalized and automatically sent to the borrowers and referral partners. Content includes flyers that are customizable, compliant, and come with out-of-box distribution permissions
Automated omnichannel outreach through text, phone, email, video, social media, and print to ensure that lenders communicate with inside their preferred channels
Power-dialing technology helps consumer direct loan officers enhance the speed to lead story and grow outbound dial counts
TCPA compliant text messaging capabilities that are helping loan officers send segmented and broadcasted communication to prospects and borrowers
Compliant video messaging sent directly from the platform with built-in approval management
Opportunity alerts that help consumer direct teams identify and close additional loan opportunities
As we head into a shifting market, having a mortgage marketing CRM like Surefire can help consumer direct mortgage companies meet ongoing consumer demand with the latest technology and digital marketing capabilities.
To learn how we are helping mortgage companies meet customer demand, drive efficiency and elevate performance, contact us today at sales@surefire.com or book a demo to learn more.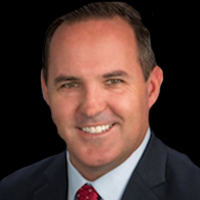 Rick Webster is Vice President, Client Strategy at Top of Mind Networks. A seasoned digital marketing executive and longtime mortgage veteran, Rick has spent over 20 years leading successful teams and guiding hundreds of marketers at large global brands, mortgage companies, and advertising agencies. With a successful background in paid media, marketing automation, and financial technology, Rick brings together a cross-discipline mindset with the latest marketing strategies to help marketing teams drive results. Rick enjoys spending time with his family, watching sports, coaching and traveling.