Integration Offers Credit Unions And Lenders A Seamless Experience
SLK Global Solutions, a business transformation enterprise offering technology platforms and solutions for the financial services industry, announced that its property search solution SmartProp is now integrated with Sharperlending's EPN settlement services platform. SmartProp is currently being used by 100+ title & tax agencies to make their property ownership searches faster, risk-free & cost-effective. This integration will help credit unions & independent mortgage lenders boost their process efficiency and ensure enhanced security while providing a seamless user experience in title & tax searches.
SharperLending's EPN settlement services platform provides lenders with a secure, single source to order and pay for all the products and services needed to close a loan. EPN's advanced technology and SLK's SmartProp platform help credit unions and independent mortgage lenders by accelerating the entire loan process while delivering real savings.
"This integration with the EPN platform is part of some major enhancements in SmartProp, along with additional integrations -all with the single aim of delivering a seamless user experience to our credit union & mortgage lender clients"said Shannon Cobb, EVP of business development for title insurance solutions at SLK Global Solutions."With this integration, our clients can now have better control over the interaction between their staff and SLK, thus reducing compliance issues while boosting their process efficiencies & getting title searches completed faster & more securely" added Shannon.
"We are excited to offer this integration to SLK Global Solutions' property search platform SmartProp," said Matt Brannon , Director of Communications at SharperLending.  "This additional property search technology gives our strategic partners and lenders a broader and technically superior selection of tools to streamline their day to day activities."
SLK Global Solutions America President Alok Datta noted that this integration with EPN and the other recent enhancements to SmartProp will further strengthen SLK's ability and commitment to deliver the best technology-enabled platform solutions for credit unions, independent mortgage lenders & title agents. Datta said. "We strive to deliver nothing but the best to our customers & this integration gets closer to delivering the real business value envisioned."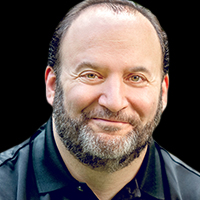 Tony Garritano is the founder at PROGRESS in Lending Association. As a speaker Tony has worked hard to inform executives about how technology should be a tool used to further business objectives. For over 20 years he has worked as a journalist, researcher and speaker in the mortgage technology space. Starting PROGRESS in Lending Association was the next step for someone like Tony, who has dedicated his entire career to providing mortgage executives with the information that they need to make informed technology decisions to help their businesses succeed.