Looking Back At 2021 And Ahead To 2022
As you all know, I've been doing this for over 20 years now and I look forward to covering our space for another 20-plus years and beyond God willing. We still have a lot more to do to truly modernize this industry. I've seen a lot, but nothing compares to what we've been through this year. Here's what I think about 2021 and what's to come in 2022:
The Mortgage Bankers Association (MBA) predicted that purchase mortgage originations are expected to grow 9% to a new record of $1.73 trillion in 2022. After an anticipated 14% decline in 2021, MBA expects refinance originations will slow further next year, decreasing by 62% to $860 billion from $2.26 trillion in 2021.
MBA forecasts mortgage originations to total $2.59 trillion in 2022 – a 33% decline from this year. In 2023, mortgage originations are expected to decrease to $2.53 trillion. Purchase originations are forecasted to reach new successive records in 2022 and 2023, while higher mortgage rates and fewer eligible homeowners will lead to further declines in refinance volume.
According to Mike Fratantoni, Chief Economist and Senior Vice President for Research and Industry Technology at the MBA, the trade association's 2022 forecast assumes continued, strong economic growth amidst eventual easing of the supply chain constraints that have curbed some economic activity this year. "The economy and labor market rebounded in 2021, but overall growth fell short of expectations because of stubborn supply chain issues that fueled faster inflation, slowed consumer spending, and presented challenges in filling the record number of job openings available," he said. "With inflation elevated and the unemployment rate dropping fast, the Federal Reserve will begin to taper its asset purchases by the end of this year and will raise short-term rates by the end of 2022."
MBA's baseline forecast is for mortgage rates to rise, with the 30-year, fixed-rate mortgage expected to end 2021 at 3.1% before increasing to 4.0% by the end of 2022.
I agree with all that, but what I'm looking at is technology innovation, which should be no surprise to any of you reading this that have followed my career. I've been going on and on about the eMortgage or the Digital Mortgage or whatever you want to call it today since I started writing about this space 20-plus years ago. I thought the GSEs and other investors would drive adoption. Lenders told me over and over again that once investors come onboard, they're all in. Well, that didn't happen. After that I thought the borrower would demand change. Borrowers want a more digital experience after all. And borrowers have forced lenders to automate more, but not enough in my opinion.
Then along came COVID-19. With a once in 100-years pandemic surely lenders would embrace eMortgages to reach borrowers as they are all forced to live 24/7 from home. In the end, investors, borrower needs, and the pandemic has brought about a lot of industry change, but it continues to be slow. So, as I look ahead to 2022, I'm still hoping that eMortgages will go mainstream. It probably won't happen, but we as an industry will get closer to that end.
On a personal note, I haven't seen any of you reading this story right now in person for 2 years now. I was hoping to get out of my home office for the MBA Annual but with Delta surging I decided against it. Now we have Omicron. So, Innovations 2022 will be digital again and I won't be at MBA Tech, but I hope to see you all in person again some time in 2022, fingers crossed.
In the meantime, I lived out a lifelong dream this year and became a cozy mystery novelist. I published my first novel. It's something I've wanted to do since I was a little boy. It's a romantic/comedic mystery that's a real fun read. You can pick it up HERE.
So, what's ahead for all of us? More digital mortgages for sure. And more articles where I cover the latest industry news and trends and bring them to you every workday. Thank you all for following me and PROGRESS in Lending. If your bored over the rest of the holiday I've got a great book that you should read, HINT, HINT. Honestly though, Happy New Year everyone. We have so much more to do together, so I'll see you back here on Monday in 2022.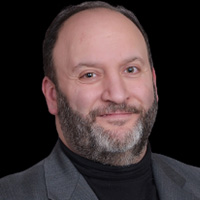 Tony Garritano is the founder at PROGRESS in Lending Association. As a speaker Tony has worked hard to inform executives about how technology should be a tool used to further business objectives. For over 20 years he has worked as a journalist, researcher and speaker in the mortgage technology space. Starting PROGRESS in Lending Association was the next step for someone like Tony, who has dedicated his entire career to providing mortgage executives with the information that they need to make informed technology decisions to help their businesses succeed.