Maximizing Digital Transformation In Today's Mortgage Lending Environment
The pandemic has fast-tracked the way borrowers and lenders leverage technology in the home buying process. Consumers expect a digital friendly process, turning to online tools more frequently in the beginning stages of the home buying process to research properties and apply for mortgage loans; and lenders to identify potential homebuyers in the beginning stages of their mortgage journey and create positive borrower experiences through the digital channel.
Lenders were already in the process of digital transformation prior to the pandemic, which allowed features such as remote online notarization (RON) and video closings to quickly become the norm, but there are still areas that can be improved.
Where lenders can take this a step further is in utilizing actionable data to engage with potential borrowers earlier – i.e., as soon as a borrower initiates a secure transfer of relevant data that may indicate their potential interest in a mortgage loan. This is increasingly important as 72% of new borrowers conducted their own research on where to find the best rate while 59% researched their loan options and how much money they qualified for.
In terms of digital transformation, what started as a response to unprecedented circumstances has evolved into a new way of conducting business. Lenders now have the opportunity to merge human capabilities and technology to help them grow their businesses by leveraging data, reducing risk, and improving operational efficiencies that leads to a faster and easier experience for the borrower.
State of the Industry
There is now more intense competition in the mortgage industry due to limited demand and rising interest rates, which is moving the market to a purchase mortgage environment. Lenders recognize that digital mortgage capabilities are no longer a differentiator, but rather a requirement to remain competitive in this changing marketplace. Whether lenders are automating the entire mortgage process, or select components, it is essential that they offer digital capabilities that cater to all demographics of borrowers. However, this also means creating the right tech partnerships to withstand competition.
Because consumers have access to more lenders than ever before, it requires complete transparency, faster approvals and less friction. Potential borrowers are also quick to communicate their disapproval of a lender's application process online. In addition, customer experience expectations associated with speed and ease of use have skyrocketed, which is why growth and share are being predominantly captured by "digital first" lenders.
Recent research indicates about 60 % potential buyers and refinancers would be open to completing their entire mortgage application online, without phone or in-person support. Among GenZ and millennials, 23% of buyers said they would purchase a home without seeing it in person first.
Borrowers are the biggest beneficiary of the digital transformation, in 2020 more first-time homebuyers qualified for mortgages in the U.S. than ever before, due to the quality and availability of alternative data and a faster, decisioning process supported by intelligent automation.
Streamlining the Mortgage Process
As the mortgage industry continues to streamline the lending process through automation integration and decisioning, the opportunity for consumers to complete tasks from the comfort of their home increases. The current lending landscape requires businesses to be flexible and offer accurate insights quickly. By automating features such as document extraction and management, income and asset verification, employment verification, automated compliance and decisioning; companies increase efficiency and provide an easier application process for new and existing consumers.
While the industry works diligently to keep up with changing technologies, rebuilding products, applications, networks, and moving data to the cloud can be a cumbersome and time-consuming process. This has created the need for many major bank and non-bank lenders to work with fintechs and third-party technologies across various segments of the lending journey to digitize several processes.
This helps relieve the lender of the burden to speed up the transformation process, accelerate response times and improve their predictive analysis and automated decisioning, including their ability to monitor potential client behaviors.
Identifying Borrower Intent
For lenders to gain a competitive advantage, they must be able to pinpoint potential borrowers in the early stages of the home buying journey. The digital transformation has now put lenders in a position to use technology to detect a consumer's presence and analyze their intentions based on how they navigate the institutions' website and/or how long they stay on certain pages. Intent indicators can be captured and known early in the process by understanding consumer home shopping and buying behaviors. Using content engagement as a measurement helps lenders better evaluate a consumers' probable interest level or tendency to purchase. Knowing a prospective borrower's likely intent and interest level positions a lender to more effectively communicate with that borrower through the exploratory stage and later, purchasing stage of the consumer journey.
Additionally, by collaborating with partners who gather user information via ad engagement and prompted self-disclosure, lenders gain the opportunity to tailor personalized messaging and experiences based on borrower need through more targeted messaging, content, offers and campaigns. Data such as responses to emails and timing are added to the collection of knowledge about the borrower, which makes it easier to track a prospect through an automated qualification process.
The digitization of the mortgage process helps improve the chances of the prospective borrower moving to the next step of the lending process. Leveraging technology to deploy cost-effective and specifically-targeted campaigns, ultimately will drive value for both the lender and the borrower.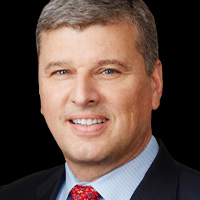 Jim Leath, SVP, National Mortgage Sales Leader, Equifax, is responsible for all Mortgage Direct Sales which includes USIS and Workforce Solutions. Under Jim's leadership, the mortgage account executive team works with prospects and clients to grow the Equifax suite of emerging and differentiated mortgage solutions and services.