VeroFORECAST Projects 2.2% Home Value Appreciation Over The Next 12 Months
Veros Real Estate Solutions (Veros) released its 2023 Q3 VeroFORECAST that anticipates that home prices are expected to increase on average 2.2% over the next 12 months, compared to last quarter's forecast of 1.7% increase, indicative of a steady market.
VeroFORECAST evaluates home prices in over three hundred of the nation's largest housing markets. Veros is committed to the data science of predicting home value based on rigorous analysis of the fundamentals and interrelationships of numerous economic, housing, and geographic variables pertaining to home values.
In the current discussions surrounding the housing market, one issue reigns supreme: the scarcity of available homes for sale. "Forecasts suggest that this predicament is here to stay for the foreseeable future, stretching into months, and quite possibly, a couple of years," said Reena Agrawal, Research Economist at Veros Real Estate Solutions. "The chief culprit behind this housing conundrum is the expectation of prolonged high mortgage rates. This is because the Federal Reserve is likely to hold interest rates higher for longer to combat inflation and will probably increase rates further. Adding to this supply squeeze is the high cost of construction, which places a substantial damper on the prospect of new housing stock entering the market."
Yet, the story of the housing market is not a one-sided narrative. Agrawal added that "despite the headwinds created by elevated interest rates, demand is exhibiting a surprising tenacity. A noteworthy trend is that a full third of all home purchases transpire through all-cash transactions, underscoring the persistence of home-buying activity. Furthermore, millennials are making their mark on the housing landscape. These young buyers are not going it alone; many receive substantial financial backing from their affluent baby boomer parents. This dynamic brings an interesting twist to the market, wherein high-interest rates predominantly affect a subset of potential buyers, some of whom are exploring more cost-effective avenues, while others contemplate deferring homeownership for another time."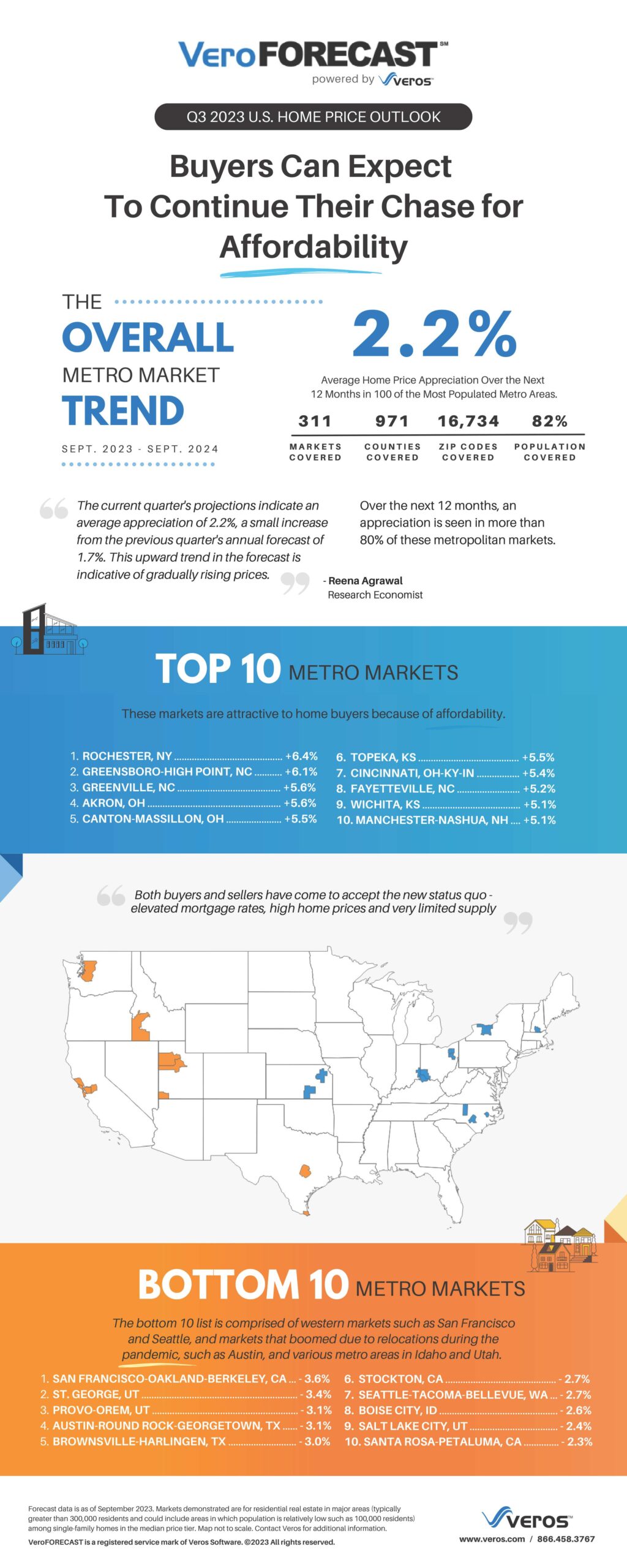 Against the backdrop of soaring housing costs, smaller cities are emerging as havens of affordability and tranquility. Nine of the ten strongest performing markets based on the Q3 2023 VeroFORECAST boasted median sale prices for existing homes under the $350,000 mark—well below the national median. Rochester, NY, tops the list of best performers. The other metros expected to do well are in Ohio, North Carolina, Kansas, and New Hampshire. Each of these metros is projected to appreciate in the 5% to 6.5% range.
THE 10 STRONGEST-PERFORMING MARKETS OVER THE NEXT 12 MONTHS
| | | |
| --- | --- | --- |
| Rank | Market | Forecast |
| 1 | ROCHESTER, NY | 6.4% |
| 2 | GREENSBORO-HIGH POINT, NC | 6.1% |
| 3 | GREENVILLE, NC | 5.6% |
| 4 | AKRON, OH | 5.6% |
| 5 | CANTON-MASSILLON, OH | 5.5% |
| 6 | TOPEKA, KS | 5.5% |
| 7 | CINCINNATI, OH-KY-IN | 5.4% |
| 8 | FAYETTEVILLE, NC | 5.2% |
| 9 | WICHITA, KS | 5.1% |
| 10 | MANCHESTER-NASHUA, NH | 5.1% |
The appeal of a more balanced lifestyle is steering individuals and families toward these urban enclaves. The surge in remote work has provided some people the liberty to choose their place of residence based on personal preference rather than proximity to a workplace. Moreover, the longing to be close to family members has grown more profound, a desire heightened by the pandemic's turbulent times.
Major metros, like San Francisco, Los Angeles, and Seattle, on the west coast and New York on the east, are known for their high cost of living and skyrocketing housing prices, which can be prohibitive for many individuals and families. The sunbelt region has not been immune to the housing affordability crisis either. Some sunbelt cities, particularly in states like Texas and Florida, that grew rapidly during the pandemic, have experienced a substantial increase in housing costs. The worst ten performing cities based on the VeroFORECAST are in California, Idaho, Texas, Utah, and Washington. All three metros in Utah, Boise, and Austin boast median house prices at or above the $500,000 mark. Seattle, San Francisco, and Santa Rosa have even higher median prices. Stockton, CA and Brownsville, TX round up the bottom ten list, not holding much appeal in terms of economic opportunities. These ten metros are expected to depreciate modestly in the -2% to -4% range.
THE 10 LEAST-PERFORMING MARKETS OVER THE NEXT 12 MONTHS
| | | |
| --- | --- | --- |
| Rank | Market | Forecast |
| 1 | SAN FRANCISCO-OAKLAND-BERKELEY, CA | -3.6% |
| 2 | ST. GEORGE, UT | -3.4% |
| 3 | PROVO-OREM, UT | -3.1% |
| 4 | AUSTIN-ROUNDROCK-GEORGETOWN, TX | -3.1% |
| 5 | BROWNSVILLE-HARLINGEN, TX | -3.0% |
| 6 | STOCKTON, CA | -2.7% |
| 7 | SEATTLE-TACOMA-BELLEVUE, WA | -2.7% |
| 8 | BOISE CITY, ID | -2.6% |
| 9 | SALT LAKE CITY, UT | -2.4% |
| 10 | SANTA ROSA-PETALUMA, CA | -2.3% |
VeroFORECAST Methodology
The quarterly VeroFORECAST reports to clients by subscription and to industry media in a summary overview. The current report is based on 311 Metropolitan Statistical Areas (MSAs) data, including 16,734 ZIP codes, 971 counties, and 82% U.S. residents. The report is a projected increase twelve months forward.

The Place for Lending Visionaries and Thought Leaders. We take you beyond the latest news and trends to help you grow your lending business.