Business Strategies Column: LinkedIn Changes That Will Benefit You
The mortgage industry uses LinkedIn a lot. It's a powerful tool that everyone in our space needs to be using. However, the one thing that remains constant is social platforms evolve. LinkedIn is no different.
In the article "Massive LinkedIn Changes in 2021: New Features; Tools and Options" the author reports that recently, LinkedIn rolled out a variety of updates, some big and some small, on its desktop and mobile platforms.
I understand it can be tough to keep up with these continual platform changes. I have done the work for you so you can stay focused on your business.
In this article, I break down the top five recent LinkedIn changes. You will learn how to use them so you can decide which ones are most useful to you.
1. LinkedIn's New Look
You may have noticed that one of the recent changes on LinkedIn is its new look.
Its LinkedIn's first major redesign in nearly five years.
According to LinkedIn, the goal of this major redesign is to make the user experience easier, more inclusive, and to put the community front and center. The goal was to create a simple, modern and intuitive user experience that also made navigation and discovery easier.
The change in the look is subtle. It features warm colors, except for the blue and green accents to signal action and selection. It includes:
>>rounding the shapes and buttons
>>increasing whitespace
>>reducing divider lines and decorative icons.
The new platform now meets accessibility standards, allowing for text scaling, bigger touch targets and increased contrast for improved readability.
A dark mode is coming soon for those who prefer it.
2. LinkedIn Cover Story
Help your ideal clients get to know you better with LinkedIn's new feature: Cover Story.
Your cover story is a 30-second video. You can use it to introduce yourself and, if time permits, identify your ideal clients and tell them how you can help them solve their problems.
Once you upload your Cover Story, your profile viewers will see an orange boarder around your profile image and a 3-second preview of the video. It's visible on both mobile and desktop apps.
Note that you can see another person's cover story only if you have the feature yourself. Also, the only way to tell if someone has a cover story is by viewing their profile. (If you don't have this feature yet, don't panic. It is in the process of being rolled out to all LinkedIn users.)
And while you can create your video using mobile or desktop, you can upload and edit it using only the mobile app.
3. LinkedIn Creator Mode
Build your credibility and establish your authority using LinkedIn's new Creator Mode.
This new feature is ideal for you if you regularly create and share content – it puts your content and activity front and center. It is gradually being rolled out, so don't worry if you don't have it yet.
To turn on creator mode, in the Your Dashboard section of your profile, click on Creator mode: Off. Follow the prompts on the screen to start using it.
Once you have creator mode set up, you will see the following changes:
>>The Connect button on your profile will change to a Follow While this is ideal if your goal on LinkedIn is to establish your authority on your topic, it might not be ideal if your current goal is to grow your network.
>>Your intro card will display the number of followers you have. Your followers include both the people you are connected to as well as the people who follow you.
>>You can choose a number of hashtags to indicate the topics you post about most often. They will be displayed within your intro card. This will help you get in front of interested audiences.
>>Your profile will be reordered, with your Featured and Activity sections appearing first.
>>Showcase more of your recent content in the expanded Activity This section will no longer show your likes, comments and other activity.
>>If you're a LinkedIn Live broadcaster, your LinkedIn profile background will now show your Live broadcast when you start streaming, helping increase the visibility of your content.
4. LinkedIn Service Page
This new feature is incredibly powerful for LinkedIn members who offer a service. It allows you to create a dedicated service page accessible right within your intro card.
Top among the benefits of this feature is the ability to make your services more discoverable through search engines, including LinkedIn's.
In addition, anyone on LinkedIn can message you free about your services – this is normally a paid feature.
To set up your services page, within your profile, click the Open to button in your intro card. Select Providing services, and complete the set-up information. Click the Publish button to make your Service Page visible to members.
Also note that once you update your profile with your services information, your profile photo will be visible to all LinkedIn members, regardless of your profile visibility settings.
5. LinkedIn Audio Rooms (In Development)
If you like what the new social media platform Clubhouse, an audio-based social networking app, has to offer but are not interested in building a whole new audience on yet another social media platform, good news!
LinkedIn is currently developing and testing its own version of this. From the information available so far, it appears it will look like and offer similar functionality to the Clubhouse app.
Now use all this great information to help grow your mortgage business by getting the most out of LinkedIn.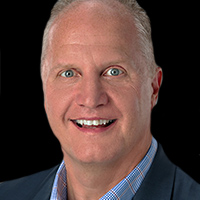 Michael Hammond is the founder and president of NexLevel Advisors. NexLevel provides solutions in business development, strategic selling, marketing, public relations and social media. A seasoned technology executive, Michael brings close to two decades of leadership, management, marketing, sales and technical product and services experience. His expertise spans start-ups to multi-billion dollar corporations, running businesses, business units, marketing, sales, strategy and product and services organizations. Michael brings exceptional insight, leadership, passion, and strategies that create profitability.