Dominating Your Market Through Digital Assets
On May 6th, 1965, something amazing happened. Before that date, society widely believed that it was physically impossible for humans to break the four-minute mile. But on that fateful spring day in 1965, Roger Bannister did it.
Since then, many people have done it –from professional to high school track athletes. But it took one person to do it for everyone else to believe that it was possible.
When it comes to the mortgage industry, we just broke our four-minute mile. $5 billion or even $10 billion in loans isn't a far-fetched idea. It's a fact.
And I believe that there isn't a mortgage professional that can't double, triple, or even 10X their revenue in the next 12 months, given they believe and wield their digital presence to grow their revenue as others have.
Don't believe it yet? That's ok. By the end of this article, I'll prove to you, beyond the shadow of a doubt, reaching this level of success is possible over the next 12 months, and the key lies in digital.
Before we jump in, here's a little background on me. I'm a 14-year B2B and B2C marketing veteran. I'm obsessed with helping mortgage professionals build their digital presence and improve their borrower journey, and I've helped companies double their size in less than two years through the method I'm about to share with you.
Over the last 18 years, LenderHomePage has had the opportunity to work with some of the most successful mortgage companies in the US, including Barrett Financial, Motto Mortgage, and MegaStar Mortgage. And we did it by building their digital presence.
Thus, my purpose with this article is to help you, the mortgage professional, understand what your digital presence is and how to leverage it to scale your business and have a consistently filled pipeline of quality leads.
What is your digital presence?
Imagine a loan officer new-hire that sits at his desk and hopes that the phone will ring with an eager qualified buyer on the other end. How long would you keep him on your team?
The same can be said about websites. Launching a website with a few snappy graphics and today's low rates and hoping someone will stumble across it is just plain silly. Generating mortgage leads doesn't work like that.
We have to work smarter. We have to build something where we put $1 in and instantly get $2 back.
That is what it's like to have a comprehensive digital presence.
That's right. Comprehensive.
Not that long ago, a comprehensive digital presence meant hiring a copywriter, graphic designer, website developer, a programmer to hook up all the forms and the calculators and get it all working, and an analytics person. The upfront cost to build a website alone was $11,000.
But the job isn't done yet. A snappy website doesn't mean that it's churning out loans, and the chances are that nobody even knows the site exists, let alone apply for a loan. And that's why most mortgage professionals have struggled in this business for so long.
Today, my goal is to free you, the mortgage professional, so you can generate your own leads and make your own sales without the expense and dependency on tech people.
I want you to be able to launch your entire website for a comprehensive digital presence in under 60 minutes.
But first, here are 3 secrets of dominating your competitors through your digital presence.
Secret #1: "How to get the exact same customers who are currently going to your competitors' website…to start coming to your website."
The Financial Times reports that US mortgage lending volumes will surpass $3 Trillion for only the third time in history…the other two times? 2003 and 2020. 85% of borrowers are shopping for their loans online, meaning that in 2021 the digital mortgage market will be over $2.5 trillion.
That's a lot of money to be had.
So the question is, how do you get those digital borrowers to YOUR site?
In preparing your website as a hub for online traffic, it's essential to do keyword research to determine which keywords are driving the highest volume. These keywords become the foundation of the rest of your traffic generation strategy.
Remember that our goal isn't just to get more leads. What we want is to help you dominate competitors and win every potential borrower.
And that begins with figuring how to get the traffic from their site over to yours.
It'd be great if we could simply call up one of your competitors and ask, "Do you mind telling me where you get all your traffic from because I'd like to get all of your leads to come to me instead" and their traffic starts pouring into your site.
But that's not likely to happen. That's ok! We can go around it.
One of my favorite sites to do this is SimilarWeb.com. I go to SimilarWeb.com, and I type in the URL of the competition. I click on the search button, and then boom! It shows me all the data about what's happening on that website. Scroll down a little bit, and they have this section called "Top Referring Websites", so you can see who's referring all their traffic.
So if we have all this information and we know it works, what do you think we should do? If you said to copy it, you'd be wrong.
No, we don't want to copy it. However, we do want to model what works.
Once you have your keywords, you'll use them to perform SEO work on your website. Relevant page titles, H1 tags, and metadata are all important factors. You'll also use these keywords in your website copy and blog articles. Remember to keep your blog articles current. Google doesn't like a stale page.
The next channel to consider when driving traffic to your website is social media. Facebook happens to be the best channel to connect with local borrowers and real estate agents in the mortgage industry. It can also promote referrals by real estate agents and previous clients. A strong social media presence with regular posts is necessary to market your mortgage business and stay top of mind with borrowers.
Once you've buttoned up your SEO and Social Strategies, it's time to consider a paid strategy through Social Media and Google. Once again, you'll use your keyword research to design ads for these channels, paying special attention to retargeting ads for website visitors.
Secret #2: How to engage the borrower on your website, gain their trust, and get them to start a loan application.
This is the foundation of your digital presence, and when you understand this, everything else becomes really easy.
Getting traffic to your site is just the beginning. It's important to engage the borrower and gain instant credibility and trust. To do this, you'll want to:
– Have a mobile responsive website
– Mortgage Calculators
– Real Estate Listings
– Client Testimonials and Reviews
– And a direct link to your loan application
Which leads us to Secret #3.
Secret #3: How to guide your borrowers through the application process to get completed applications faster than your competitors can.
How much time is wasted chasing down incomplete applications and required documents when a borrower applies?
The time it takes to track down that information is when your competitor is spending winning the deal. You can eliminate wasted time and outpace your competitors by:
– Having a digital loan application that guides the borrower through the process
– Creating a dynamic needs list based on the client's responses
– Having a milestone tracker
– Generating branded pre-approval letters through a digital portal
– Maintaining constant communication with the borrower through in-app messaging and chat
These 3 secrets are the key to growing your mortgage business in the next 12 months and carving out your piece of the $2.5 Trillion digital mortgage market. The good news is that you don't have to do these alone. You are just a quick Google search away from finding the right digital mortgage tech stack to cover all your bases.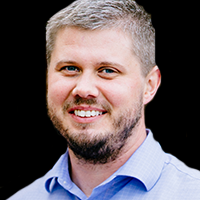 Brandon Salisbury is the Director of Marketing & Sales for LenderHomePage. Having 14 years of marketing experience, the last 5 in B2B SaaS marketing, he jumped at the opportunity to join the rapidly growing company. Prior to joining LenderHomePage, Brandon led the sales and marketing efforts for ChildcareCRM, and served as a marketing consultant for a dozen of B2B SaaS companies.