Mortgage Professionals: 5 Strategies For Managing Your Digital Presence
According to a recent study by Realtor.com, 98% of consumers start the homebuying process online –and that's true for both home searches and home loan applications. And with the rise of touch-free consumerism, your digital presence is more vital than ever before. In this article, you'll learn how to manage and grow your digital presence for a profitable first impression on mortgage prospects.
Email Marketing
While not the newest marketing strategy on this list, it does have the longest track record of measurable results. Compared to other lead generation methods, email marketing continues to have one of the highest conversion rates.
The reason for high conversion rates may be because emails are personal without being intrusive. They're a direct doorway to the mortgage prospect. That said, you want to be mindful about how often and what you email. Provide only your best content in your newsletters, and keep updates and reminders short. Don't give them a reason to unsubscribe or flag emails as spam.
Online Reviews
Consumers love to research before purchasing, and part of that research involves reading online reviews. In fact, studies show that around 87% of consumers will read online reviews of local businesses. Since reviews influence prospective mortgage shoppers, you want to ensure that they're well-managed. Here's how:
Respond to reviews quickly
Keep responses professional and remember to spell check
For poor reviews, attempt to de-escalate. Never reply aggressively to negative reviews.
Be sure to request a review from past happy clients –they're your best advocates!
Something else to keep in mind –reviews on Google My Business can help your organic search ranking!
Social Media
Without a doubt, a large portion of your digital presence lives on social media. In fact, the latest studies show that about 82% of the US population and 91% of businesses are on social media.
Social media marketing strategies can get elaborate depending on the goal. But if you plan to manage it yourself, here are some pointers for doing it well.
Post regularly –even if only once a week but optimally daily.
Keep your brand consistent with tone and imagery.
Use high-quality pictures and graphics.
Add videos –studies show they get the highest rates of engagement.
Add a call-to-action (CTA) to every post.
Reply to comments and tags.
SEO
Search engine optimization is also great for managing your digital presence, such as adding more authority to your business. For example, including phrases like "mortgage broker" or "mortgage business" to social media profiles and comments helps search engines associate your business name with that phrase.
SEO also helps to boost your organic ranking too. Fill your mortgage website with engaging, quality content with keywords and phrases to cast a wide net that associates your business and personal name to home lending services in your local market.
Paid Ads
Whether through Facebook ads, Google ads, or anywhere else, paid ads are an effective way to increase mortgage leads while managing your digital presence.
Do this by first deciding on the campaign's overall message and the ad's goal. Then, research keywords and phrases, identify the ones that work best, and use them on both the ad and landing page.
Not only will coordinating the copy on the ad and landing page optimize it for high conversion, but it'll also create a harmonious digital presence that increases trust and boosts conversion even higher.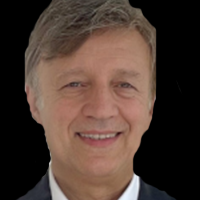 Rocky Foroutan is the Founder and Visionary behind LenderHomePage.com. He founded the company from his small home office in 2003 by building turnkey websites for mortgage brokers and loan officers. Sixteen years later, the company has grown to serve over 2,000 clients with an innovative, multi-channel digital platform that helps customers enhance borrower experience while gaining efficiencies and saving cost. Prior to LenderHomePage, Rocky spent nineteen years as a software developer, sales and marketing management in Fortune 5000 companies.