Seven Keys To Building Strong Business Referral Relationships
Most consumer finance experts recommend that borrowers talk to a lender before engaging a real estate agent, but in reality, the borrower's existing personal connection is often with an agent, whom they then ask for a financing recommendation. Lenders recognize this and know that if they haven't built strong relationships with these important business referral sources, they likely won't get that business.
When it comes to establishing and nurturing agent relationships (or any key business relationships for that matter) there are some proven steps that loan officers can take.
Find a common frame of reference
I once found myself in the office of a prospect and as I looked around his office, I saw no pictures of family or friends or even pets. No sports memorabilia or university diploma on the walls. No obvious, visible cue to find some common ground except hanging on the wall behind his desk was a large, mounted fish.
I, myself, am not a fisherman, but I said: "That fish is spectacular! Where did you catch it?" And a long and fruitful relationship was founded.
Conversations build meaningful relationships. Sometimes it's not as obvious, but you must find some common ground if you want to begin that conversation, even if you have to venture out of your comfort zone and go to where they are standing.
Find out about your prospect in advance
In the last century, I would often prepare for important meetings by going around asking colleagues if they knew the person and, if so, what they could share about him or her. I wanted to learn all I could before the meeting and this was the best way to do so.
Today, this is so much easier because of the internet and social media. You can learn a great deal about someone simply by researching their Facebook, Instagram, and LinkedIn pages first.
Find your common ground and see what friends you may have in common before you have your first conversation.
More importantly, see how the prospective partner treats others on social media. It can be a telling clue as to how they will ultimately treat your joint clients.
Set a high standard for how you treat people
People want to know that they are respected, and they are a valued part of a team. Decide early on how you're going to demonstrate that to them and be consistent for every person you work with. It shouldn't matter if they are one of your top producers or an average producer, give each the same levels of your respect, attention and time.
People also want to know that you care about them personally – not just professionally. Partners will often judge the strength of the relationship based on how much you demonstrate that you care about them personally.
Pay attention to your non-verbal communication
Most of what people take away from a conversation has little or nothing to do with what we say. We often teach our children how to shake hands with good eye contact.
When my son returned from one of his first job interviews after college, he told me that his interviewer didn't maintain eye contact with him. It made him feel like his answers didn't matter and it turned him off on joining the company. He was right to demand attention and effective leaders make sure their non-verbal communication shows that they are giving it.
Don't be afraid to be vulnerable to build relationships
People will share personal information when they feel comfortable, but they often won't have that level of trust if the other person doesn't open up first. When you show you trust someone, they are more likely to trust you back.
This is why strong leaders do not fear showing vulnerability with people who are important to them.
Be willing to put in the time and effort
In order to be truly successful in this or any business, you're going to need to work with referral partners, some of whom will be very different from you. It will take time to get to know them, but it will be time well spent.
Leaders give up that time because they know that without that investment, they will likely earn nothing in return. Building a true relationship with a real estate agent means you've got to know everything about that person, and they've got to know everything about you. That's true relationship building. It's an investment — monetarily, emotionally and physically.
Never just ask for the business. Earn it!
Real estate agents get approached by loan officers every day, asking them for their business. To stand out, loan officers should focus on asking if there is anything they need and ask how they can help them succeed. Adding value to their lives first, before asking for anything, is incredibly powerful and it gets the relationship off on the right foot.
As lenders, our business is a relationship business —be it with our borrowers or with our real estate agent partners. Those lenders who take the time to learn about the agents in their network, and explore creative ways to help them be more successful in their business, tend to be the ones that ultimately realize the full benefit of that investment.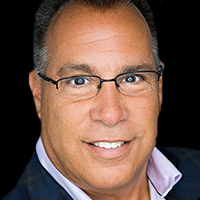 Joel Kornbliet is the New England Regional Manager for Homespire Mortgage, one of the nation's fastest growing residential mortgage lenders providing affordable loan options now across 36 states. Joel is a 35-year industry veteran, working to build Homespire's presence throughout New England by recruiting topnotch LOs and giving them the support, training, and mentoring they need to build their own businesses and thrive.