The Difference Between Mortgage Technology Vendors And Mortgage Technology Partners
Mortgage technology vendors typically give you what you want, but mortgage technology partners give you what you need. Let's break that down.
Mortgage lending can often feel like more of a network than a business. If you and your Real Estate partners aren't moving in sync, your customer experience suffers, and that's always bad for the team's bottom line. When bringing other parties into the mix, like mortgage technology companies, it goes without saying that the best return comes with a shared goal. If your experience with these companies feels transactional, you're working with vendors. If your experience with these companies feels like a mutually beneficial relationship, you're working with partners. What sounds better for your business?
In our opinion, here are the top two most important differentiators between vendors and partners:
Vendors are fairly removed from your ecosystem post-launch. Partners stay in communication, hear your feedback, include you in their product roadmap plans, and support your business initiatives regularly.
Vendors perform a service that's backed with a 1-800 number and buy-up training and support options. Partners consider your success their success and include top-tier training and support for every client they're working with.
At LenderLogix, we like to consider ourselves as mortgage technology partners.
Who Is LenderLogix?
LenderLogix designs and supports customized mortgage technology for IMBs, brokers, banks, and credit unions and currently works with more than 100 lenders in 42 states. Founded by a former loan officer and staffed with over 40 years of mortgage and real estate experience, this team takes pride in offering tech for loan officers that'sactually built by loan officers.
What Mortgage Technology does LenderLogix Provide?
Our product offerings include adjustable pre-approvals, digital business cards, automated fee collection, automated closing gifts (like pet tags and cutting boards), milestone SMS text messages, and CRA analytics. We know that one size rarely fits all, so each product is offered a la carte and designed specifically for each lender's brand and process.
Who Is LenderLogix Integrated With?
LenderLogix is integrated with most loan origination systems, including Encompass®, Calyx Point, LendingPad, Byte, and more.
What's Onboarding/Customer Support Look Like?
Tech fatigue is too real, so we keep each element of the customer journey well-defined and straightforward. Once you've seen a personalized demo of the solution you're interested in, we'll set up a customization & onboarding call to ensure that your solution meets your business needs and expectations are set for product training. As partners in your success, we offer complimentary 1:1 and group training for all lenders and their Real Estate partners. With the understanding that lenders work around the clock, our team is always available to support our clients.
Does LenderLogix Have Some Proven Results?
On average, LenderLogix can save lenders up to 40% more time in their day, increase their conversion rates up to 60%, and realize hundreds of thousands of dollars in unpaid upfront fees… and that's just with our core products QuickQual and Fee Chaser. QuickQual has a 95% utilization rate and borrowers log in 22 times on average. Lenders using Fee Chaser receive more than 60% of their upfront fee payments within 5 minutes of sending the request and report capturing at least 10% more upfront payments.
Head over to the LenderLogix site to learn more about our solutions and to get in touch with our team.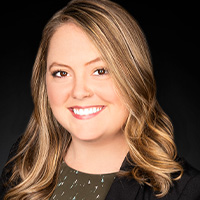 Emmi Sauls is the Director of Marketing for LenderLogix. She has worked in marketing for eight years and has been a part of the LenderLogix team for 11 months. Emmi lives by the quote "business has only two functions – marketing and innovation" and joined LenderLogix because of their explosive growth in the fintech space. With her expertise in branding and demand generation, you'll likely see a lot more of LenderLogix in the months ahead. Emmi is a graduate of Canisius College, an Alpha Kappa Psi brother, and lives in Buffalo, NY.